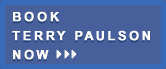 Watch Dr. Paulson on Video in front of 275 teens as he captivates with down-to-earth humor, engaging stories and practical insights:
NOT EVERYBODY GETS A CAR!
Good parenting has more to do with saying "no" than being popular. After all, true confidence and optimism are earned, not given to you!
GREAT TEACHERS GRADE YOU HARDER!
Learn how the best teachers and mentors grade you harder and expect more. After all, such expectations show that they believe in you well prior to you believing in yourself!
RIDE THE HORSE IN THE DIRECTION IT'S GOING!
Learn how to take advantage of your gifts to ride the trends that will lead to future opportunity. If you are good at something people need, you have no reason to fear the future!
HALF OF WHAT YOU COULD DO HASN'T BEEN INVENTED YET!
Never give up on your dream and take advantage of the opportunity of living in America. Learn that most of the bars that seem to limit us we put up ourselves, ...and we can take them down!
SOME DAYS YOU'RE THE BUG, AND SOME DAYS THE WINDSHIELD!
Learn how gratitude is an attitude that transforms even the worst day into a gift. After all, that is why they call each moment the "present!"
GET OUT OF THE REARVIEW MIRROR!
Learn how to let go of the past and get busy taking advantage of the future one day at a time. Life is about turning procrastination and paralysis into productive choices that help you invent your future!
WHAT'S WORKING FOR YOU?
Learn how taking time to focus on what is working allows you to manage your own motivation. You'll learn how it is important to catch yourself being effective every day.
YOU'VE BEEN IN THERE A LONG TIME!
Learn how to take your life seriously and yourself a bit more lightly. After all, humor works!