Clients are Saying...
"Not a day goes by where I don't try to incorporate your teaching and humor into my business activities. Considering the difficulties we face in healthcare, I know our employees appreciate these diversions. I can see the difference in their performance. It works."
- Z. Lipner, Newark Beth Israel Medical Center
"A number of people have commented on your knowledge and understanding of our philosophy and culture. Combining your sincere and honest views with our philosophy produced a powerful delivery. You were able to motivate our managers to become agents of change and to begin re-inventing their organizations."
- G. Kessler & L. Jackson, American Honda Motor Co., Inc.
"His ability to relate every day situations to a sometimes sensitive topic allowed us to reinforce our message in a non-threatening way. During my career, I have been exposed to numerous speakers and I would have to say that Terry ranks among the best that I have ever seen. If there is anyone who is looking to make a difference in their company and needs a guest speaker to impact the lives of their employees, I would highly recommend Dr. Terry Paulson."
- W. Sanders, Kforce Professional Staffing
"Your presentation "Making Change Work...Together" provided the required motivational, positive message to all...and the responses as always were superb!"
- S. Ramming, GlaxoSmithKline
"Dr. Paulson's extensive skillfulness and commitment to personalize programs allowed him to address the specific interests, concerns, and challenges facing our group."
- W. Meyer, Kaiser Permanente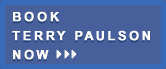 "As expressed in your closing remarks, optimism is a challenge for health care providers...Your humor and remarks will give each listener facing the challenges of this care renewed strength and direction."
- E. Weaver, Association of Community Cancer Centers