Read What Administrators, Students and Others Are Saying about Dr. Paulson's Impact!
"You hit the nail on the head in your message to another group of educators—in this case, our District's management team! Your good humor, words of wisdom, and understanding of this particular group's tasks was so well received, and appreciated, by all. Many times we know the answers to gnawing issues but those answers get lost in the maze of responsibilities and challenges. It takes a skillful speaker with the right amount of humor and honesty, to remind us of the reason we are here, and the attitude we should have. It was an honor and a privilege to have you speak to our group." -Robert Fraisse, Superintendent, Conejo Valley Unified School District
"There is no doubt in my mind that the time you spent with us has created lasting memories for the young leaders present. You helped to provide a special dimension which the seminar needed, and I sincerely appreciate your message. You are truly an example of a great leader, and that quality radiated to our high school students." -Charles Runnels, Pepperdine University, YCS Program
"Thank you for speaking so ably to our state coordinators. Comments ranged from, 'Terry Paulson was an excellent and thought-provoking speaker,' to 'The only problem with Terry Paulson's presentation was that he could''t come and give it to the district coordinators too.'" -Kari L. Coppinger, Assistant Director, We the People Programs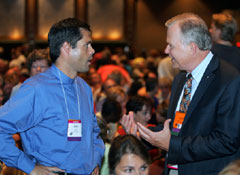 "I want to thank you again for the great program you presented at Denison University this week. We received many compliments and expressions of appreciation for offering this program for professional development for our faculty and staff. Your humorous style of delivering a message is well received and appreciated by all." -William Acklin, Director of Human Resources, Denison University
"Your optimistic comments about job prospects were certainly welcome words in this time when we are bombarded with so much negativity about job opportunities: 'Half of what you could do hasn't been invented yet…' Today's young people need to hear this sort of encouragement. …Just as Lincoln, you will be remembered because of the power of your stories! In thanking you, I must say that we will LONG remember what you shared with us in your presentation and will not forget what you did here. Thank you for your inspiration!!" -Dennis Synder, Executive Director, Escondido Charter School District
"Thank you for showing me the beauty and humor of life through your own personal experiences. I'm optimistic about my future, and I have you to thank for that. So, thank you again for sharing your advice with me as well as thousands of students through the YCS experience." -Owen, 2010 YCS Counselor
"Words can't even begin to describe how appreciative I am that you spoke to us on the first day of YCS. You started everyone out on an optimistic note not only with your life lessons, but with your contagious energy and love of life. I have pages written down; however, some of my favorites were to not dwell on the past in the rear view mirror and to laugh a lot! I could go on and on about how you changed everyone's life in that room! Thank you so much; you changed my views on life." -Brittany, 2009 YCS Student Attendee
"Throughout the year, I remembered your positive and lively attitude and looked at my YCS notebook frequently to remember quotes like your Secret of Life #2, 'Life is difficult. Optimism is earned by overcoming obstacles on your road to success,' I was constantly inspired to keep my head up and remain positive. Though I had a tough year, YCS equipped me with more confidence and strength, for which I am so blessed. I am also so grateful to have heard you speak at YCS because it provided a great source of encouragement for me in a time when I needed it most." -Grace, 2009 YCS Student Attendee
"My senior year was hardest by far, academically, mentally, emotionally. Your comment, that is so true, always makes me laugh, 'Some days you're the bug, some days you're the windshield.' That really did make me smile when I was the 'bug.' And your 'GET OUT OF THE REARVIEW MIRROR!' statement made me realize how I never took the initiative in my life. I had always just let my parents tell me what path I should take. I finally took the bull by the horns and am now taking the road that I've always wanted. I'm attending UCLA in the fall, studying Immunology. Thank you again for your amazing speech. You have truly influenced my life and helped me become the person I am today." -Reina, 2009 YCS Student Attendee
"I would like to personally thank you for your inspiring words and all you taught me. My favorite idea that you shared with us is that optimism is earned by overcoming obstacles on your road to success. I know from experience, that the more obstacles I overcome, the more optimistic I become. Because life is a moving vehicle with no brakes, I want to catch myself being affective daily, which is why I am writing you. It has been a struggle to experience my father's loss. But through it all, I have become amazingly strong and have found my purpose in life. Raising money for cancer research is now my passion. The inspirational words I heard at YCS have made me the person I am today, and if I can do anything in life, I hope to share the same thoughts and lessons with my peers that you have shared with me." -Maggie, 2008 YCS Student Attendee
"YCS has completely changed my perspective. My thyroid problems still inflict me with many physical and emotional symptoms, but no matter what my thyroid does, I now know that my thyroid does not define me. I do. I now know that a broken spirit is a loss more damaging that a broken body. My body may be broken, but with faith, courage, and persistence I have kept my spirit intact. I know that this obstacle can help me grow, and I will learn from it. I won't be limited by my suffering because I now know my dreams are much stronger than my disadvantages. I am not the victim. I am the victor. Thank you again for all you have helped me to learn. Because of you, I am forever changed. God bless you." -Christine, 2007 YCS Attending Student
Click here to watch Terry Paulson in action.
Book Terry Paulson to speak at your next meeting or event! Contact: Paulson and Associates Inc.
1-800-521-6172 or 818-991-5110 for availability and bookings