The Twelve Days of Christmas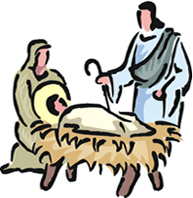 Day Twelve...Christmas Day...December 25, 2009


Terry Paulson, PhD, CSP, CPAE



On the Twelfth Day of Christmas my God gave to me...

His most precious gift, His Son!


As we celebrate our Lord's birth, we think of loved ones present and far away. We think of loved ones who are absent from us but present now with the Lord.
As with past years, each message this year has been archived on my website, and you can also see some past collections of messages by visiting that website at http://terrypaulson.com/christmas.shtml

A CHRISTMAS THOUGHT FOR THE DAY... "Accepted with Awe and Joy"



"The wonder of the incarnation can only be accepted with awe. Jesus was wholly human, and Jesus was wholly divine. This is something that has baffled philosophers and theologians for two thousand years. Like love, it cannot be explained, it can only be rejoiced in."

Madeleine L'Engle



I LOVE TO TELL THE STORY... "The Best Present"


Our family still remembers their favorite Christmas present. My husband and I hid the gift under a big TV box we had rescued from the cellar. The children took turns guessing what could possibly be inside.

"It's a lizard," my son Chip offered.

"How about a parrot?" Sherri asked.

"It's a rat," ten-year-old Kelly announced with a giggle.

Finally, my husband said, "On the count of three, I want you to lift the box, okay?"

They nodded and held their breaths in anticipation.

"One…two...three!" They raised the cardboard container in triumph.

Grasps of surprise were followed by cries of joy and delight as our daughter, Pam, now a missionary to Guatemala, rose from her crouched position under the box. She had surprised her younger siblings with a Christmas visit, and her presence surpassed any other gift we received later that year.

The fond memory of that Christmas reminds me of the Gift we have been offered, at Christmas and all through the year. He arrived in swaddling in plain wrappings…yet His coming changed the world forever.

His name is Jesus…the best gift God ever gave humanity.

…Cindy Noonan

AND NOW YOUR YouTube CHRISTMAS MOMENT...


Remember the reason for the season…the Greatest Gift…Unto us a child is born…


SORRY--IT'S TOO LATE TO TAKE YOUR NAME OFF THE LIST---SO JUST HAVE A VERY MERRY CHRISTMAS. SEE YOU NEXT YEAR!


We no longer prepare for his coming...for He has come! Try sharing the Christmas story today with those you love from the source that matters, the Word of God. Read out loud Luke 2: 1-20 as part of your Christmas celebration.

Remember, You can find the archived messages from this year's series on my website at http://terrypaulson.com/christmas.shtml/.

For now, let me close with a special wish shared by George Morrisey, "May the hope that was born that silent, holy night remain in your heart throughout the year."



Signing off for 2009....Your Host for the Journey,


Terry Paulson, PhD