The Twelve Days of Christmas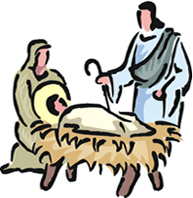 Day Nine...December 22, 2009


Terry Paulson, PhD, CSP, CPAE



On the Ninth Day of Christmas my true friend gave to me...

An appreciation for giving...


This year, each message will be archived on my website, and you can see some past collections of messages by visiting that website now at

http://terrypaulson.com/christmas.shtml


A CHRISTMAS THOUGHT FOR THE DAY... "The Gift of Prayer"



"God, thank You for my wonderful family, for good friends, for good food, for family traditions, and for special phone calls at Christmas. But as we enjoy these blessings, we pray for those who serve their country far away from those they love. We pray for all who are sick, or hurt, or lonely. We pray for those who did not receive anything at Christmas, and for those who were not able to give. God, may they feel Your nearness and comfort, through Jesus Christ, our Lord. Amen."


…Jim Daughdrill




I LOVE TO TELL THE STORY... "Clutter to Caring"


Leonard Pitts, Jr., lamented how America was suffering from a severe case of "affluenza"-empty consumerism gone wild—and how malls have become our churches, the purchase an act of sacrament. In short, we all shop too often for things we don't need. We are all on a fool's errand, credit card in hand. Pitt's column stayed with me for days. Although I often clean like a madman this time of year, Pitt's column sent me into overdrive.


Over New Year's I cleaned the clutter from the storage room shelves. I then swept through my closet, and this time instead of just rearranging, which is my annual habit, I actually put clothes in bags for the Goodwill. Shirts I haven't worn in years, shoes, a dozen ties. And then I moved to my bureau. Socks, Sweaters. T-shirts never worn. Into the bag they went. The process was so cleansing that when it was over I felt lighter, despite the holiday pounds I'd put on. But when I looked, I still had enough left to clothe a good-sized pep club of aging preppies.


It was then that I made a resolution. I would buy nothing during the next year. I would join what is known as the simplicity movement. Could less really translate to more? Could I really be a richer man in other ways this time next year?


…Craig Wilson, "Peace on Earth and Lots of stuff to Goodwill," Ventura County Star


AND NOW YOUR YouTube CHRISTMAS MOMENT...


James Taylor is an every green for Lorie and I. This Christmas song captures how Christ is seen in every family…in every land… Enjoy Some Children See Him.


Remember, You can find the archived messages from this year's series on my website at http://terrypaulson.com/christmas.shtml/. For now, keep your sense of humor and your sense of thanksgiving and anticipation! More tomorrow...as we prepare for His coming!



Your Host for our 12 Day Journey to Christmas.


Terry Paulson, PhD