The Twelve Days of Christmas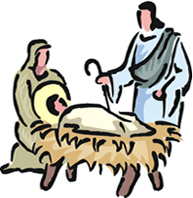 Day Seven...December 20, 2009


Terry Paulson, PhD, CSP, CPAE



On the Seventh Day of Christmas my true friend gave to me...

Someone to walk with…


This year, each message will be archived on my website, and you can see some past collections of messages by visiting that website now at

http://terrypaulson.com/christmas.shtml


A CHRISTMAS THOUGHT FOR THE DAY... "The Wicked Fairy At The Manger"



My gift for the child:

No wife, kids, home;

No money sense. Unemployable.

Friends, yes. But the wrong sort –

The workshy, women, wimps,

Petty infringers of the law, persons

With notifiable diseases,

Poll tax collectors, tarts;

The bottom rung.

His end?

I think we'll make it

Public, prolonged, painful.

Right, said the baby. That was roughly

What we had in mind.

…U.A. Fanthorpe




I LOVE TO TELL THE STORY... "Footprints in the Snow"


One white and snowy Christmas Eve in a village, long ago, a young child took a journey, leaving footprints in the snow. Clutched within her tiny hand she carried a small tattered heart, fashioned from some scraps of cloth, wrapped in the charm of childlike art.
A manger scene of wood and straw was the child's destination. Her only Christmas wish was to join Christ's birthday celebration. She placed her precious handmade gift upon the straw with care, and before she turned to leave, whispered a simple prayer.

The villagers who stood nearby recall that night with awe, retelling every detail of the miracle they saw…a special set of footprints appeared next to the girl's own. They seemed to walk right by her side, to see her safely home. But there's no mystery in the presence of this unseen friend—For once God's touched your heart, you'll never walk alone again.

…Anonymous


AND NOW YOUR YouTube CHRISTMAS MOMENT...


Can you sing along with one of my favorite Christmas Songs sung by Kenny Rogers and Wynonna Judd—
Mary Did You Know?


Remember, You can find the archived messages from this year's series on my website at http://terrypaulson.com/christmas.shtml/. For now, keep your sense of humor and your sense of thanksgiving and anticipation! More tomorrow...as we prepare for His coming!



Your Host for our 12 Day Journey to Christmas.


Terry Paulson, PhD