The Twelve Days of Christmas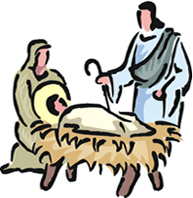 Day Five...December 18, 2009


Terry Paulson, PhD, CSP, CPAE



On the Fifth Day of Christmas my true friend gave to me...

Time to slow down!


This year, each message will be archived on my website, and you can see some past collections of messages by visiting that website now at

http://terrypaulson.com/christmas.shtml


A CHRISTMAS THOUGHT FOR THE DAY...



The great evangelical theologian, Karl Barth died on December 18, 1968. On that date in Barth's diary, Frau Barth had written, "He died peacefully in his sleep." Beside these words, she had drawn a Cross with her aging, shaky hand. On her husband's last trip to the United States, a reporter asked him how he would sum up his life's work. He thought for a minute, then, and in his heavy Swiss-German accent, he said quietly, "Jesus loves me, this I know, for the Bible tells me so."


…God, may that sum up our lives, too, as we claim the peace that passes all understanding on our way to Christmas.




I LOVE TO TELL THE STORY..."Take It Easy…Slow Down"


Lucy Guernsey and her husband Wayne kept hearing the same message from their Habitat for Humanity project boss: "Take it easy" and "slow down." They had been given the privilege of building houses in Mexico for two weeks with her daughter Sheryl, her husband, and a group of Episcopalians from Phoenix, Arizona. They were reminded regularly that haste could be unsatisfying, even dangerous. This was tough for these active, results-oriented Americans to hear. But since that experience, the phrases continued to echo in Lucy's soul. Her Christmas message to friends attempted to bestow that same gift to others:


"May this Christmas season provide you opportunity to slow down and enjoy the gift of doing something that makes no workaday sense. To festoon yourself and your house with joy, to hunt for the small even if it's not worth the hunt, to discover the paper-white narcissus as it bursts into fragrant bloom, to hear the canary sing...to laugh out loud, to nestle in bed with a book, to halloo down a hillside in high spirits, to celebrate the making of a world that did not need to be made--a world of flowers and meadows...to listen to the straining of a choir offering praise for a body broken and raised, to partake of a small wafer of bread that is true bread: these are the gifts of God, manna to be gathered. Take it easy. Slow down."


…Amen. May it be so in your life!


AND NOW YOUR YouTube CHRISTMAS MOMENT...


What would you have on your grown up Christmas list? Amy Grant sings hers in a Christmas song worth hearing…


Remember, You can find the archived messages from this year's series on my website at http://terrypaulson.com/christmas.shtml/. For now, keep your sense of humor and your sense of thanksgiving and anticipation! More tomorrow...as we prepare for His coming!



Your Host for our 12 Day Journey to Christmas.


Terry Paulson, PhD