The Twelve Days of Christmas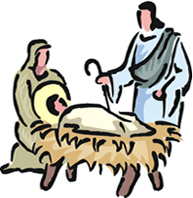 Day Three...December 16, 2009


Terry Paulson, PhD, CSP, CPAE



On the Third Day of Christmas my true friend gave to me...

Light to shine through the holes…


This year, each message will be archived on my website, and you can see some past collections of messages by visiting that website now at

http://terrypaulson.com/christmas.shtml


A CHRISTMAS THOUGHT FOR THE DAY...



"One of Jesus' most famous stories was of a son who wandered far from home, squandering all the material and moral resources his father had given him. But when he did finally come to his senses and return to his family, the father's immediate response was to throw a huge party to celebrate having his son back home. Christmas is a time when many return home for the holidays—both in a literal and figurative sense. Will you be having the time of your life at the party the father has thrown for his lost son or standing aside in judgment with the older son? When we truly come home for Christmas, we rediscover that our Heavenly Father loves us so much He gave the gift of His Son. That calls for a celebration!" --Inspired Faith's Simple Blessings of Christmas

…Got any family members you need to be celebrating with?




I LOVE TO TELL THE STORY..."My Quilt of Holes"


As I faced my Maker, I knelt before the Lord. Before me, laid my life—like the squares of a quilt in many piles. An angel sat before me sewing my quilt squares together into a tapestry of my life.


But as my angel took each piece of cloth off the pile, I noticed how ragged and empty each of my squares were. They were filled with giant holes. Each square was labeled with a part of my life that had been difficult, the challenges and temptations I had faced. I saw hardships that I endured, which were the largest holes of all.


My angel was sewing my ragged pieces of cloth together, threadbare and empty, like binding air. Finally the time came for my life to be displayed. My gaze dropped to the ground in shame. I hadn't had earthly fortunes. I had love in my life, and laughter. But there had also been trials of illness and failures. I had to start over many times. I often struggled with the temptation. I spent many nights on my knees in prayer, asking for help and guidance. And now, I had to face the truth. My life was what it was.


I rose and slowly lifted the combined squares of my life to the light. Then, I looked upon the tapestry before me. Light flooded the many holes, creating an image, the face of Christ. Then our Lord stood before me, with warmth and love in His eyes. He said, "Every time you gave over your life to Me, it became My life, My hardships, and My struggles...Each point of light in your life is when you stepped aside and let Me shine through, until there was more of Me than there was of you."


May all our quilts be threadbare and worn, allowing Christ to shine through! When there is nothing left but God that is when you find out that God is all you need.
–Shortened from a story sent by Gene Mappin, Jr.


…In this time of economic uncertainty and struggles for so many, we are blessed to know that God gave us Christ at Christmas to shine through the holes in our life's quilt!


AND NOW YOUR YouTube CHRISTMAS MOMENT...


Don't some Christmases bring you to your knees in prayer? Enjoy Josh Groban and Charlotte Church singing "The Prayer."


Remember, You can find the archived messages from this year's series on my website at http://terrypaulson.com/christmas.shtml/. For now, keep your sense of humor and your sense of thanksgiving and anticipation! More tomorrow...as we prepare for His coming!



Your Host for our 12 Day Journey to Christmas.


Terry Paulson, PhD