The Twelve Days of Christmas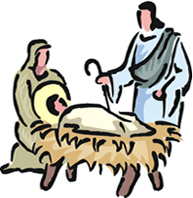 Day Two...December 15, 2009


Terry Paulson, PhD, CSP, CPAE



On the Second Day of Christmas my true friend gave to me...

Blessings of a Cherished Visit….


This year, each message will be archived on my website, and you can see some past collections of messages by visiting that website now at

http://terrypaulson.com/christmas.shtml


A CHRISTMAS THOUGHT FOR THE DAY...



"Christianity isn't about politics. It's about a miracle. 'Rejoice! Rejoice!' the Christmas carol declares. 'Emmanuel shall come to thee, O captive Israel.' We rejoice when we recognize that we need something like a miracle—and it comes. Christmas is about the miracle of God coming to Earth to save us from Satan's power." –Marvin Olansky





I LOVE TO TELL THE STORY..."Driven for Love"


As healthcare grabs the political focus in Washington, I'm reminded of a touching "miracle" shared by Claudia Cravens, Administrative Program Director at St. Francis Health in MN: "It was a few days before Christmas 2008, and one of my supervisors at St. Francis Health was contacted by a man in the community inquiring on who he could contact to rent a wheelchair-accessible van.


His sister's husband had suffered a stroke and was now in the nursing home. He was told that no arrangements could be made to transport him to their family Christmas gathering. He further explained that this would be the first Christmas the couple would be apart, and his sister felt that her Christmas would be ruined without her husband joining the family. The supervisor knew of no place to rent a wheelchair-accessible van, but, on his own, he approached the corporate office. He asked if he did the transportation could he use the facility's handicap van.


On Christmas Day, the supervisor gave of his own time and transported the husband from the nursing home to his family gathering an hour away. The supervisor stayed in the van for the afternoon so the couple he didn't even know could have Christmas together with their loved ones. A blessed Christmas was had by all!"


True healthcare thrives when we are touched by people who care. This Christmas give the gift of caring for someone you don't even know…

DR. PAULSON'S THE OPTIMISM ADVANTAGE IS AVAILABLE FOR PRESALE FOR A GIFT THAT IS OPENED IN MARCH!

How about giving a gift that comes to your recipient in March? That's right. Why open all your gifts at one time. People are going to need an OPTIMISM LIFT in March. Make a gift of Dr. Paulson's new book, The Optimism Advantage: 50 Simple Truths to Transform Your Attitudes and Actions into Results. You can pick your favorite site to place orders early:


AND NOW YOUR YouTube CHRISTMAS MOMENT...


No one will pick you up in a van this year, but what would Christmas be without a fun sleigh ride with Amy Grant. Try singing along with the lyrics provided…


Remember, You can find the archived messages from this year's series on my website at http://terrypaulson.com/christmas.shtml/. For now, keep your sense of humor and your sense of thanksgiving and anticipation! More tomorrow...as we prepare for His coming!



Your Host for our 12 Day Journey to Christmas.


Terry Paulson, PhD