The Twelve Days of Christmas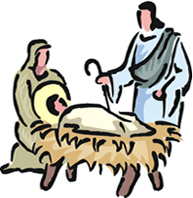 Day One...December 14, 2009


Terry Paulson, PhD, CSP, CPAE



Once again we look to the coming of the Christ child; we are drawn to a need for traditions, family, friends and faith. Traditions and holidays are the stuff that binds people together. I trust that the stories, thoughtful quotes and YouTube links supplied in my Fourteenth annual "12 Days of Christmas" E-mail messages will help you and yours keep this Christmas focused on Christís coming. I thank in advance all those who sent in stories and humorous moments of mirth for all of us to enjoy.


This year, each message will be archived on my website, and you can see some past collections of messages by visiting that website now at

http://terrypaulson.com/christmas.shtml


A CHRISTMAS THOUGHT FOR THE DAY...



Dr. Karen Westerfeld Tucker reminds us of that truth. She tells about an especially meaningful Christmas pageant that took place at her church. It began as a traditional pageant, with children dressed as shepherds and angels and donkeys and such. The congregation sang hymns. Miniature versions of Mary and Joseph walked solemnly up the aisle and knelt by the manger. But then something totally unexpected happened. Little Mary pulled back the blanket swaddling her baby Jesus to reveal that it was really a wooden cross. She lifted up that cross and held it over the manger, reminding the whole congregation of the real meaning of Christmas.


The babe was born to die. This can be a cruel world. But beyond the cross is the empty tomb. And after the slaughter of the innocents, Mary and Joseph, and their son Jesus returned to Nazareth to build new lives--lives that would change human existence as we know it. Yes, there are Herods in this world. But they cannot defeat God. How long? Not long, because "Mine eyes have seen the glory of the coming of the Lord." Emmanuel is with us Ė flees with us, stands with us, dies with us, and rises before us. We are called to stand with one another, ambassadors of the God who is with us in any, every, and all circumstances.


--The Christmas Pageant



I LOVE TO TELL THE STORY..."Christmas Isn't about Living Happily Ever After"


The Christmas season was especially hard for Frank Hinnant. Many years ago, Frank's eighteen-month-old son, David, had died. Christmas was such a special time for children, so it always brought back painful memories of the Hinnant's loss.


One December morning on his way to work, Frank passed by a nativity scene in a department store window. He tried not to notice the shining smiles on Mary's and Joseph's faces as they gazed down at baby Jesus. Next, Frank passed the Holy Innocents orphanage. Frank started thinking. Holy Innocents--wasn't that the title given to all the babies who were murdered by King Herod's men around the time of Jesus' birth?


Suddenly, Frank realized that the Christmas story doesnít end with the words "And they lived happily ever after." It is a story of death and the lust for power and unjust social systems and innocence sacrificed. Frank visited the orphanage that afternoon, and it changed his life.


He described to his wife a dreary place full of sad children who were desperate for attention from a caring adult. That day, Frank donated a large amount of money to the Holy Innocents orphanage, and the directors planned to build on a new wing and name it in honor of David Hinnant, Frank's deceased son. Frank's wife marveled at the change in her husband. It was the first time in 22 years that he had mentioned his son's name.


Life is hard. The story of Herod is a stark reminder of that truth. This is a scary world in many ways. But Christmas reminds us that evil does not have the last word.


-- Dina Donohue, "When Christmas Came Again," The Guideposts Christmas Treasury

DR. PAULSON'S THE OPTIMISM ADVANTAGE IS AVAILABLE FOR PRESALE FOR A GIFT THAT IS OPENED IN MARCH!

How about giving a gift that comes to your recipient in March? Thatís right. Why open all your gifts at one time. People are going to need an OPTIMISM LIFT in March. Make a gift of Dr. Paulsonís new book, The Optimism Advantage: 50 Simple Truths to Transform Your Attitudes and Actions into Results. You can pick your favorite site to place orders early:


AND NOW YOUR YouTube CHRISTMAS MOMENT...


This video was put together for a Christmas chapel service. It brings to life Christina Rossetti's poem, "Love Came Down for Christmas.". And we have never been the same sinceÖ


Remember, You can find the archived messages from this year's series on my website at http://terrypaulson.com/christmas.shtml/. For now, keep your sense of humor and your sense of thanksgiving and anticipation! More tomorrow...as we prepare for His coming!



Your Host for our 12 Day Journey to Christmas.


Terry Paulson, PhD