The Twelve Days of Christmas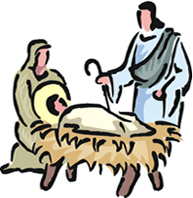 Day Twelve...December 25, 2013


Terry Paulson, PhD, CSP, CPAE



On the Twelfth Day of Christmas, my God gave to me...

His most precious gift, His Son!



As we celebrate our Lord's birth, we think of loved ones present and far away. We think of loved ones too who are absent from us but present now with the Lord.



A CHRISTMAS THOUGHT FOR THE DAY..."A Time for Gratitude"



"As a Christian, every morning is Christmas and every night is Thanksgiving!" Anonymous


Isn't appropriate that on Christmas Day on which we celebrate the coming of our Lord into a humble, anonymous village that such a meaningful reminder might be given as a gift from an anonymous Christian... Praise be to God to those Christians who touch our lives, and we never even know their names....




I LOVE TO TELL THE STORY..."Going to See the King"


"This same Jesus, who has been taken from you will come back in the same way you have seen Him go." -Acts 1:11


We were driving through the city in search of Christmas presents. Our son, daughter-in-law and three-year-old granddaughter were with us. To keep my granddaughter occupied, I began to sing to her and she sang back to me.
One of the songs I sang was, "Soon and Very Soon, we are Going to Meet the King." I sang it a few times and she listened carefully, then she looked at me and said, No, Grandma, we are going to the mall."


Well, at the time we all laughed, but later I thought about what she said. Don't we as adults often act as if we prefer to go the mall, rather than looking for His return? Are we looking forward to the King's coming or are we so busy with stuff - running to and fro -that we rarely give a thought that maybe, just maybe, the King is coming back today? Are you looking forward to seeing Jesus? When was the last time you thought about His return? We get so busy with living that we forget that we are on earth for a short time compared to eternity. Are you ready? Are you looking forward to seeing Him? If not, during this Christmas season, I encourage you to look forward to His return as much as we look forward to his first coming that first Christmas.


Father, I am so glad Jesus is returning to earth. Maybe He will come today, maybe tomorrow. Maybe on Christmas morning. Give us gladness of heart and readiness because we know our Lord is coming soon. Amen.


-Going to See the King, by Katherine Kehler


AND NOW YOUR CHRISTMAS MIRTHFUL MOMENT... "Your Email from God"


One day God was looking down at earth and saw all of the rascally behavior that was going on.


So He called His angels and sent one to earth for a time.


When the angel returned, he told God, 'Yes, it is bad on earth; 95% are misbehaving and only 5% are not.


God thought for a moment and said, 'Maybe I had better send down a second angel to get another opinion.'


So God called another angel and sent her to earth for a time.


When the angel returned she went to God and said, 'Yes, it's true. The earth is in decline; 95% are misbehaving, but 5% are being good.'


God was not pleased.


So He decided to e-mail the 5% who were good, because he wanted to encourage them, and give them a little something to help them keep going.


Do you know what the e-mail said?


Okay, I was just wondering, because I didn't get one either.


...Compliments of Dr. Ann Kleine-Kracht, December 15, 2010, WEEKS OF FUN #902


...But since all of us have sinned and fall short of the glory of God, we believe that Jesus came that first Christmas that we might by faith become part of the family of God and inherit eternal life. Jesus also left us with Holy Spirit and His love letter, The Word of God. May you read the Word every day this year to know that you are loved well beyond Christmas!


AND NOW YOUR YouTube CHRISTMAS MOMENT...


You'll enjoy the answers about the Christmas Story from these very cute children as they answer: Who was Mary? What was the Baby Jesus wearing? What did the Wise Men bring Him? These kids get the important details right, and sing Happy Birthday to the Lord! Maybe, we ought to help our kids and grandkids get the story right...and sing Happy Birthday to Jesus!


SORRY--IT'S TOO LATE TO TAKE YOUR NAME OFF THE LIST---SO JUST HAVE A VERY MERRY CHRISTMAS. SEE YOU NEXT YEAR!


We no longer prepare for his coming...for He has come! Try sharing the Christmas story today with those you love from the source that matters, the Word of God. Read out loud Luke 2: 1-20 as part of your Christmas celebration.


You can find the archived messages from this year's series on my website at http://www.terrypaulson.com/christmas.shtml/. Next year you will automatically be on the list again. If you like my Christmas messages and would like to receive our free bi-weekly Message of Mastery and Mirth that focuses on leadership, change and motivation, be sure to subscribe at http://terrypaulson.com.


Signing off for 2013.... Let us close with the words written by Christian author Charles Dickens in 1843, and spoken by Tiny Tim in The Christmas Carol, "May God bless us, every one!"



Your Host for our 12 Day Journey to Christmas.


Terry Paulson, PhD
http://www.terrypaulson.com