The Twelve Days of Christmas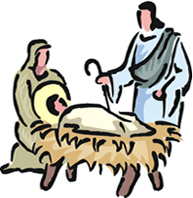 Day Eleven...December 24, 2013


Terry Paulson, PhD, CSP, CPAE



On the Eleventh Day of Christmas my true friend gave to me...

A chance to be an angel…


This year, each message will be archived on my website, and you can see some past collections of messages by visiting that website now at

http://terrypaulson.com/christmas.shtml


A CHRISTMAS THOUGHT FOR THE DAY..."Priceless Things "



Do all the good you can

By all the means you can

In all the ways you can

In all the places you can

At all the times you can

To all the people you can

As long as you ever can


- John Wesley




I LOVE TO TELL THE STORY..."The Angels at the Truck Stop"


In September 1960, I woke up one morning with six hungry babies and just 75 cents in my pocket. Now that their father had decided to leave, there would be no more beatings, but no food either. The boys ranged from three months to seven years; their sister was two.


I scrubbed the kids until they looked brand new and then put on my best homemade dress, loaded them into the rusty old 51 Chevy and drove off to find a job. The seven of us went to every factory, store and restaurant in our small town. No luck. The last place we went to was an old Root Beer Barrel drive-in that had been converted to a truck stop. It was called the Big Wheel.


An old lady named Granny needed someone on the graveyard shift, 11 at night until seven in the morning. She paid 65 cents an hour, and I could start that night. I raced home and called the teenager down the street that baby-sat for people. I bargained with her to come and sleep on my sofa for a dollar a night.


That night when the little ones and I knelt to say our prayers, we all thanked God for finding Mommy a job. Soon I was working six nights instead of five, and it still wasn't enough. Christmas was coming and I knew there would be no money for toys for the kids.


I found a can of red paint and started repairing and painting some old toys. Then I hid them in the basement so there would be something for Santa to deliver on Christmas morning. Clothes were a worry too. I was sewing patches on top of patches on the boys pants and soon they would be too far gone to repair.


On Christmas Eve the usual customers were drinking coffee in the Big Wheel. There were the truckers, Les, Frank, and Jim, and a state trooper named Joe. The regulars all just sat around and talked through the wee hours of the morning and then left to get home before the sun came up.


When it was time for me to go home at seven o'clock on Christmas morning, to my amazement, my old battered Chevy was filled full to the top with boxes of all shapes and sizes. I quickly opened the driver's side door, crawled inside and kneeled in the front facing the back seat. Reaching back, I pulled off the lid of the top box. Inside was a whole case of little blue jeans, sizes 2-10! I looked inside another box: It was full of shirts to go with the jeans. Then I peeked inside some of the other boxes. There was candy and nuts and bananas and bags of groceries. There was an enormous ham for baking, and canned vegetables and potatoes. There was pudding and Jell-O and cookies, pie filling and flour. There was whole bag of laundry supplies and cleaning items. And there were five toy trucks and one beautiful little doll.


As I drove back through empty streets as the sun slowly rose on the most amazing Christmas Day of my life, I was sobbing with gratitude. And I will never forget the joy on the faces of my little ones that precious morning. Yes, there were angels in Indiana that long-ago December. And they all hung out at the Big Wheel truck stop.


AND NOW YOUR CHRISTMAS MIRTHFUL MOMENT... "My Pet Snowball"


I made myself a snowball,

As perfect as it could be.

I thought I'd keep it as a pet,

And let it sleep with me.

I made it some pajamas,

And a pillow for its head.

Then last night it ran away,

But first...it wet my bed.


(Compliments of Don L. F. Nilsen, Assistant Dean, Division of the Humanities, ASU)


AND NOW YOUR YouTube CHRISTMAS MOMENT...


This touching video tribute, A Soldier's Silent Night, will remind you to keep our troops in your thoughts and prayers as they are away serving our country this Christmas. God bless our troops! Say a prayer for them and their families far away...

Remember, You can find the archived messages from this year's series on my website at http://terrypaulson.com/christmas.shtml. For now, keep your sense of humor and your sense of thanksgiving and anticipation! More tomorrow...as we prepare for His coming!


Your Host for our 12 Day Journey to Christmas.


Terry Paulson, PhD
http://www.terrypaulson.com