The Twelve Days of Christmas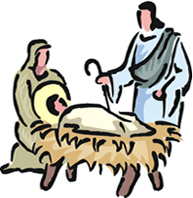 Day Seven...December 20, 2013


Terry Paulson, PhD, CSP, CPAE



On the Seventh Day of Christmas my true friend gave to me...

A focus on Christ not just Christmas...


As in past years, each message will be archived on my website, and you can see some past collections of messages by visiting that website now at

http://terrypaulson.com/christmas.shtml


A CHRISTMAS THOUGHT FOR THE DAY..."Can This Be Christmas?"



Can This Be Christmas?
What's all this hectic rush and worry?
Where go these crowds who run and curry?
Why all the lights--the Christmas trees?
The jolly "fat man," tell me please!
Why, don't you know? This is the day
For parties and for fun and play;
Why this is Christmas!
So this is Christmas, do you say?
But where is Christ this Christmas day?
Has He been lost among the throng?
His voice drowned out by empty song?
No. He's not here--you'll find Him where
Some humble soul now kneels in prayer,
Who knows the Christ of Christmas.
But see the many aimless thousands
Who gather on this Christmas Day,
Whose hearts have never yet been opened,
Or said to Him, "Come in to stay."
In countless homes the candles burning,
In countless hearts expectant yearning
For gifts and presents, food and fun,
And laughter till the day is done.
But not a tear of grief or sorrow
For Him so poor He had to borrow
A crib, a colt, a boat, a bed
Where He could lay His weary head.
I'm tired of all this empty celebration,
Of feasting, drinking, recreation;
I'll go instead to Calvary.
And there I'll kneel with those who know
The meaning of that manger low,
And find the Christ--this Christmas.
I leap by faith across the years
To that great day when He appears
The second time, to rule and reign,
To end all sorrow, death, and pain.
In endless bliss we then shall dwell
With Him who saved our souls from hell,
And worship Christ--not Christmas!
--M.R. DeHaan, M.D., Founder, Radio Bible Class (Contributed by Phil Taylor)




I LOVE TO TELL THE STORY..."The Christmas and Unmet Expectations"


Leo Buscalgia learned early about the disappointment of unmet Christmas expectations as a teenager. He writes, "I remember the sudden appearance under my family's Christmas tree of the largest present I had ever hoped to see. It stood at least a foot taller than I and was twice as heavy; and wonder of wonders, it had my name on it. For two whole weeks before Christmas, this present towered above all others and it defied any conventional attempts to learn of its contents before its time."
During the weeks leading up to Christmas he could think of nothing else but his present under the tree. He imagined all sorts of terrific presents. On Christmas Day his family gathered together. "The main attraction was to be the opening of my present." Buscalgia remembered. "How many times in the past two weeks I had anticipated this moment. Even as I was opening it, I remember experiencing a vague sense of disappointment " the Great Mystery was about to end and I would no longer be able to engage in my soaring dreams."
His present turned out to be a beautiful handmade desk his uncle had built. "By this time nothing of this world could have satisfied my expectations. I can't imagine what I had expected. Still, in that disappointment was a lesson which would last a lifetime."
--Leo Buscalgia, BUS 9 TO PARADISE (New York: Slack, 1986), pp. 25-26. (Contributed by Pastor Craig Beeker, New Hope Lutheran Church)
Do your expectations of Christmas get in the way of celebrating the best gift of all--the coming of the Son of God to set us free! Worship Christ not Christmas....


AND NOW YOUR CHRISTMAS MIRTHFUL MOMENT...


"Tis better to give than to receive" is TOTAL propaganda to a kid. Little do they know that it is true! (Compliments of Vicki Hitzges)


AND NOW YOUR YouTube CHRISTMAS MOMENT...


State Troopers have a unique window into Christmas. They are there to help families whose Christmas story takes a turn to the tragic. Watch as this state trooper experiences his caring Christmas Eve actions come back to give him pause...and joy.... (Contributed by Jim Valestrino)


Remember, You can find the archived messages from this year's series on my website at http://terrypaulson.com/christmas.shtml. For now, keep your sense of humor and your sense of thanksgiving and anticipation! More tomorrow...as we prepare for His coming!



Your Host for our 12 Day Journey to Christmas.


Terry Paulson, PhD
http://www.terrypaulson.com