The Twelve Days of Christmas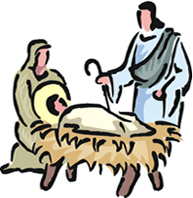 Day Four...December 17, 2013


Terry Paulson, PhD, CSP, CPAE



On the Fourth Day of Christmas my true friend gave to me...

A Baby to Win Our Hearts…

As in past years, each message will be archived on my website, and you can see some past collections of messages by visiting that website now at

http://terrypaulson.com/christmas.shtml


A CHRISTMAS THOUGHT FOR THE DAY..."A Baby Wins Our Heart"



"The strangeness and scandal of the season get easily lost in its familiar rituals. In Christian belief, the boundless, timeless God became, in J.B. Phillips' phrase, one of those 'crawling creatures of that floating ball.' From the beginning, many of the reasonable and pious found the whole idea to be nonsensical or blasphemous. But it is the central tenet of an enduring faith. Instead of setting out a philosophy to interpret the human drama, God joined it. He became 'God with us' -- a God with a face. In the process, he both shared and dignified ordinary human life, with all its delight, boredom and suffering. The Christmas story revels in this blasphemous elevation of the ordinary -- a birth in second-rate accommodations under a cloud of illegitimacy.... The point of Christmas is not a sentimental optimism about the human condition or even a teaching about the will of God. It is an assertion that God came to our rescue, and holds our hand, and becomes, at the worst moments, our brokenhearted brother. It is preposterous, unless it is true. And then it would be everything."

--Michael Gerson


In the same spirit as Michael's comments, many have asked me to include a link to my op-ed column on Townhall.com titled, The Christmas Gift of Giving. May we all be blessed by being a blessing to those in need.




I LOVE TO TELL THE STORY..."The Little Drummer Boy in the Third Grade"


It was 1953, and I was four years old. My grandmother taught 3rd and 4th grades in a three room school house in South Avis, Pennsylvania. At Christmas time when the school days were a little less serious and a little more focused on the reason for the season, my grandmother took me to school with her for the day. I sat in the back of the room and watched as she taught reading and math and history to her third and fourth graders.


After school, we had a bite to each and then came back for the evening Christmas program. I remember sitting in a darkened classroom as the students performed various songs and readings for the Christmas season. While most of that experience is but a flicker of memory, I remember vividly one song that the students sang … "The Little Drummer Boy."


I'm not sure why, but the melody has stuck with me vividly for 60 years. Every time I hear it, no matter the occasion, I flash back to that third grade class room and those students celebrating the birth of Christ with this song.


What are your childhood memories of Christmas past, and what triggers those memories for you?


With the political sensitivities of our age, will children in our public schools ever again have the experience of hearing Christian Christmas music in their school programs? It is up to you to play the music for your children and grandchildren that will center Christmas on Christ. May it be so.


AND NOW YOUR MIRTHFUL CHRISTMAS MOMENT..."What's in the Stocking?"


When I was growing up, Christmas was always a really big deal at our house. On Christmas eve we'd always go to church, out to eat and then home. My father would read the Christmas story to us, we would all pray and then we would hang our stockings. We also hung a stocking for the dog and one for the cat. One year, when I was around 12 years old, Santa gave our cat a little gray rubber mouse that squeaked just like a real mouse when you squeezed it. We all knew our mother was terrified of mice.
After we had gone through the things Santa brought my three siblings and me, we'd open our presents and then hurry and get dressed so we could spend the rest of Christmas day visiting grandparents. Santa should not have given a rubber mouse to the cat. I was one of the first out the door and decided to place the rubber mouse in the center of the first step ….and I waited.

As planned, my mother came out the door, stepped on the mouse, screamed, ran back in the house, jumped up in the middle of her bed while hollering for my daddy to go kill the mouse she'd stepped on. When he came to the door and saw me laughing, the look he gave me told me clearly that I was in trouble. My little shenanigans had terrified mother and delayed our departure by at least the 20 minutes it took for him to calm her down. Once he'd done that, it was my turn for his attention. There is nothing like a good ole fashioned spanking on Christmas day to remind us to love each other…not try to scare the dickens out of each other.

AND NOW YOUR YouTube CHRISTMAS MOMENT...


Here's a wonderful a capella version of The Little Drummer Boy from Pentatonix that will capture your heart like it did Stephen's. Enjoy!



Remember, You can find the archived messages from this year's series on my website at http://terrypaulson.com/christmas.shtml. For now, keep your sense of humor and your sense of thanksgiving and anticipation! More tomorrow...as we prepare for His coming!



Your Host for our 12 Day Journey to Christmas.


Terry Paulson, PhD
http://www.terrypaulson.com