The Twelve Days of Christmas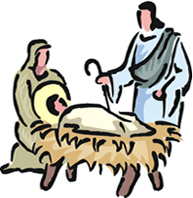 Day Three...December 16, 2013


Terry Paulson, PhD, CSP, CPAE



On the Third Day of Christmas my true friend gave to me...

A Reminder to Never Sell My Christmas Joy....


This year, each message will be archived on my website, and you can see some past collections of messages by visiting that website now at

http://terrypaulson.com/christmas.shtml


A CHRISTMAS THOUGHT FOR THE DAY..."My First Day in Christmas"



I see the countless Christmas trees around the world below

With tiny lights like heaven's start reflecting on the snow.

The sight is so spectacular. Please wipe away that tear.

For I am spending Christmas with Jesus Christ this year.

I hear the many Christmas songs that people hold so dear,

But the sound of music can't compare

With the Christmas choir up here.

I have no words to tell you the joy their voices bring,

For it is beyond description to hear the angels sing.

I know how much you miss me. I see the pain inside your heart,

But I am not far away. We really aren't apart.

So be happy my dear ones. You know I hold you dear,

And be glad I am spending Christmas with Jesus Christ this year.

I send you each a special gift from my heavenly home above.

I send you a memory of my undying love.

After all, love is a gift more precious than pure gold;

It was always most important in the stories that Jesus told.

Please love each other the Father said to do,

For I cannot count the blessing or love He has for you.

So have a Merry Christmas and wipe away that tear;

Remember I am spending Christmas with Jesus Christ this year.


--Author Unknown (Contributed by Patrick O Dooley)




I LOVE TO TELL THE STORY..."Don't Sell Your Christmas Joy"


"One day my wife, Cindy, refueled our car at a filling station in a Texas town. Instead of driving up to the self-service pump, she accidentally pulled up to full-service. She didn't realize the luxury service cost an extra fifty cents per gallon until she paid for the gas. Later she told me how the station had hiked the prices on full-service.


That extra fifty cents per gallon surely has to be a violation of some federal law, I thought. I quickly calculated that the extra seven dollars she spent on full-service would have taken our vehicle 128.33 miles farther down the road if she had bought self-service gas. We could use that money. The "full-service gas station robbery" had me fuming for several hours.


As I was mulling over this terrible injustice, God showed me what I had done. I had sold my joy for seven dollars! I never realized how cheaply I would surrender something so valuable. Just as Esau exchanged his birthright for a bowl of soup, I exchanged my joy for seven dollars' worth of gas.


At what price are you willing to sell your joy?"


-- Kent Crockett, from I Once Was Blind But Now I Squint


The Christmas season provides ample frustrations that can take your joy. Don't let the joy of Christmas be sold for any frustration, any long line, any crowded freeway, any angry shopper, or...any price.


You might want to try saying Jean Bloomquist's short prayer that helps her get beyond the mayhem and the busyness that fills the Christmas season to focus on the Holy and the presence of God in every moment of her life:


Open my heart.

Open my eyes.

Quiet me in holy stillness.



AND NOW YOUR CHRISTMAS MIRTHFUL MOMENT...


We were dressed, and ready to go out for the Christmas Eve Party. We turned on a night light, turned the answering machine on, covered our pet parakeet, and put the cat in the backyard. We phoned the local cab company and requested a taxi.


The taxi arrived and we opened the front door to leave the house. As we walked out the door, the cat we had put out in the yard, scoots back into the house. We didn't want the cat shut in the house because she always tries to eat the bird. My wife goes on out to the taxi, while I went back inside to get the cat. The cat runs upstairs, with me in hot pursuit.


Waiting in the cab, my wife doesn't want the driver to know that the house will be empty for the night. So, she explains to the taxi driver that I will be out soon, 'He's just going upstairs to say Goodbye to my mother.'


A few minutes later, I get into the cab. 'Sorry I took so long,' I said, as the cab driver started to back up. 'That stupid witch was hiding under the bed. I had to poke her behind with a coat hanger to get her to come out! She tried to take off, so I grabbed her by the neck. Then, I had to wrap her in a blanket to keep her from scratching me. And it worked! I hauled her fat downstairs and threw her out into the back yard!'


The taxi driver backed into the mailbox....


AND NOW YOUR YouTube CHRISTMAS MOMENT...


Noelle was still quite sick when she recorded this, but she really wanted to send a Christmas video to all of the nice people who had supported her through her illness. Enjoy this young girl's heartfelt recording of "Mary Did You Know."


Remember, You can find the archived messages from this year's series on my website at http://terrypaulson.com/christmas.shtml. For now, keep your sense of humor and your sense of thanksgiving and anticipation! More tomorrow...as we prepare for His coming!



Your Host for our 12 Day Journey to Christmas.


Terry Paulson, PhD
http://www.terrypaulson.com