The Twelve Days of Christmas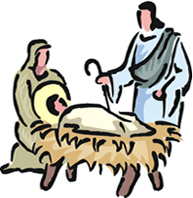 Day Twelve...Christmas Day...December 25, 2012


Terry Paulson, PhD, CSP, CPAE



On the Twelfth Day of Christmas my God gave to me...
His most precious gift, His Son!



As we celebrate our Lord's birth, we think of loved ones present and far away. We think of loved ones who are absent from us but present now with the Lord.
As with past years, each message this year has been archived on my website, and you can also see some past collections of messages by visiting that website at http://www.terrypaulson.com/christmas.shtml


A CHRISTMAS THOUGHT FOR THE DAY... "Christ Is Born in History That He Might Be Born in Us"



"Therefore also that holy thing which shall be born of thee shall be called the Son of God." --Luke 1:35
Jesus Christ was born into this world, not from it. He did not evolve out of history; He came into history from the outside. Our Lord's birth was an advent. Now His birth is in Me.
"Of whom I travail in birth again until Christ be formed in you." --Galatians. 4:19
Just as Our Lord came into human history from outside, so He must come into me from outside. Have I allowed my personal human life to become a "Bethlehem" for the Son of God? I cannot enter into the realm of the Kingdom of God unless I am born from above by a birth totally unlike natural birth. The characteristic of the new birth is that I yield myself so completely to God that Christ is formed in me. Immediately Christ is formed in me, His nature begins to work through me. --Oswald Chambers
May it be true all year long...
DANCE as though no one was watching you
LOVE as though you'd never been hurt before
SING as though no one can hear you
LIVE as though heaven is on earth
--William Pukey




I LOVE TO TELL THE STORY... "The Best Story of All"


Of all the stories we can share, we can't forget THE best story of Christmas: "She will give birth to a son, and you are to give him the name Jesus, because he will save his people from their sins." (Matthew 1:21)
The hundred-mile journey to Bethlehem might have taken as many as eight or ten days by donkey and foot. The road ahead was full of rocks and steep upgrades, not to mention the danger of thieves. When Mary and Joseph reached their destination, Mary gave birth to the baby they named Jesus.
Sometimes life gets hard. We can't see exactly where we're going; we face formidable obstacles. But just as the star shone down over Bethlehem that night, a beacon of hope shines over our own lives—all because of the Baby in the manger. With the birth of Jesus came the promise that God is with us, for us, willing to do whatever it takes to save us.
So no matter what happens around us this next year, we have the comfort of the angels proclaiming, "Peace on earth and good will toward men." We find hope in knowing that God continues to do whatever it takes to see us through. May we never lose sight of God's steadfast love shown in his decision to come and dwell with us…to save us.


YOUR MIRTHFUL MOMENT OF THE DAY...


"Christmas is such an exciting time--playing with all the toys you've given yourself via your kids." --Robert Orben


AND NOW YOUR YouTube CHRISTMAS MOMENT...


Allow the angelic voice of Jackie Evancho lifting up praise to the birth of our King in her performance of "The First Noel" be a welcomed distraction during this Christmas day. Take a moment to fix your heart on the coming of the Lord during this special song.


SORRY--IT'S TOO LATE TO TAKE YOUR NAME OFF THE LIST---SO JUST HAVE A VERY MERRY CHRISTMAS. SEE YOU NEXT YEAR!
We no longer prepare for his coming...for He has come! Try sharing the Christmas story today with those you love from the source that matters, the Word of God. Read out loud Luke 2: 1-20 as part of your Christmas celebration.
Remember, You can find the archived messages from this year's series on my website at http://www.terrypaulson.com/christmas.shtml.
For now, let me close with these words from Mother Teresa:
It's Christmas every time you let
God love others through you...
every time you smile at your brother
and offer him your hand.



Signing off for 2012....Your Host for the Journey,

Terry Paulson, PhD