The Twelve Days of Christmas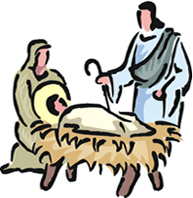 Day Eleven...December 24, 2012


Terry Paulson, PhD, CSP, CPAE



On the Eleventh Day of Christmas my true friend gave to me...
A debt with the interest only love deserves…



This year, each message will be archived on my website, and you can see some past collections of messages by visiting that website now at

http://terrypaulson.com/christmas.shtml


A CHRISTMAS THOUGHT FOR THE DAY..."The Gift of Charity"



"Some say to me that if we give charity to others, it'll diminish the responsibility of government towards the needy and the poor. I don't concern myself with this. Governments do not usually offer love. I feel called to help individuals, to love each human being. I never think in terms of crowds but in terms of persons." She went on to say, "We have no right to judge the rich. We should desire not a class struggle but a class encounter, in which the rich save the poor and the poor save the rich. If God has given you this gift of wealth, then use it for His prupose -- help others, help the poor, create jobs, give work to others. Don't waste your wealth." --Mother Teresa




I LOVE TO TELL THE STORY..."One Glass of Milk"


One day, a poor young man was selling goods from door to door during the holiday season to help earn money to pay his way through school. It was not going well. He had only a dime in his pocket, and he was hungry. He decided to ask for some food at the next house, but he lost his nerve when a lovely young woman opened the door. Instead, he asked for a drink of water. She brought him a glass of milk. He drank slowly, and then asked, "How much do I owe you?" She replied, "You owe nothing. Mother taught us never to accept any pay for a kindness. It's Christmas." He said with a smile, "Then I thank you from my heart." Howard Kelly left that house stronger physically, but his faith in God and his fellow man was strong also.
Years later that young woman became critically ill. The local doctors were baffled and sent her to specialists in the city. Dr. Howard Kelly was called in for the consultation. When he heard the name of the town she came from, a strange light filled his eyes. Immediately, he went to her room and recognized her at once. With his care, her long struggle for health was won. Dr. Kelly requested the business office to pass the final bill to him for approval. He wrote something on the edge of the bill, signed it, and sent it to her room. She feared opening the bill. She was sure it would take the rest of her life to pay for all the care. She opened the envelope and read these words on the side of the bill: "Paid in full with one glass of milk. Dr. Howard Kelly."
...Sometimes the smallest gift has a lasting impact and comes back to give you even more.... Luke 6:38--"Give and it shall be given to you, a full measure, shaken down and running over will be poured into your lap."


AND NOW YOUR CHRISTMAS MIRTHFUL MOMENT...


"The easiest way to make a fruitcake is to buy a darkish cake, then pound some old, hard fruit into it with a mallet. Be sure to wear safety glasses." --Dave Barry


AND NOW YOUR YouTube CHRISTMAS MOMENT...


This day before Christmas, let me give you a brief vacation "Flying Over America." Hopefully, it will open your eyes to the gift of living in this great land.


Remember, You can find the archived messages from this year's series on my website at http://terrypaulson.com/christmas.shtml. For now, keep your sense of humor and your sense of thanksgiving and anticipation! For tomorrow...He comes!



Your Host for our 12 Day Journey to Christmas.

Terry Paulson, PhD
http://www.terrypaulson.com