The Twelve Days of Christmas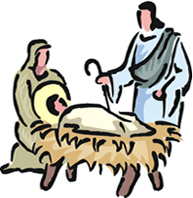 Day Nine...December 22, 2012


Terry Paulson, PhD, CSP, CPAE



On the Ninth Day of Christmas my true friend gave to me...
A reminder of the dessert yet to come...



This year, each message will be archived on my website, and you can see some past collections of messages by visiting that website now at

http://terrypaulson.com/christmas.shtml


A CHRISTMAS THOUGHT FOR THE DAY..."A Christmas Home Recipe"



4 cups of love
2 cups of loyalty
3 cups of forgiveness
1 cup of friendship
5 spoons of hope
2 spoons of tenderness
4 quarts of faith
1 barrel of laughter
Take love and loyalty, mix them thoroughly with faith. Blend it with tenderness, kindness and understanding. Add friendship and hope, sprinkle abundantly with laughter. Bake it with sunshine. Serve daily with generous helpings to all.
...You may even want to save your fork for this one!




I LOVE TO TELL THE STORY..."Keep Your Fork"


At Christmas we celebrate the birth of the Son, but with His birth comes the promise of his death and blessed resurrection. But as the pastor knocked on young woman's door, he couldn't help but wonder why such a session had to happen so close to Christmas. She was in her last days, suffering from a long battle with terminal cancer. She now wanted to get her things "in order." Her mother answered the door and ushered him into her bedroom.
She did not want to waste time; she had much she wanted to discuss. She listed what songs she wanted sung, what scriptures she wanted read, and what outfit she and her mom had decided she would be buried in. Just before leaving, she remembered one final request, "This is important. I want to be buried with a fork in my right hand." He paused. She said with a smile, "You are puzzled aren't you?" "To be honest, yes," he replied.
"In all my years of attending church socials and potluck dinners, I remember that when the dishes from the main course being cleared, someone would always say, 'Keep your fork.' It was my favorite part because I knew that something better was coming like a chocolate cake or a deep-dish apple pie. Something wonderful. So, I just want people to see me in that casket with a fork in my hand and I want them to wonder 'What's with the fork?' Then I want you to tell them, 'Keep your folk.... The best is yet to come.'" The pastor's eyes welled up with tears as he said goodbye. He knew it would probably be the last time he would see her before her death. He said as he left, "You have a better grasp of heaven than I do. I will make sure they do as you want."
True to her plan, the pastor heard people say over and over again, "What's with the fork?" Over and over again he smiled. During his message, he told of their conversation. The pastor confided that he could not stop thinking about that fork, and he bet that others would not be able to stop thinking about it either.
...This Christmas, as we celebrate Christ's birth, may we never forget that the joy of his birth is matched only by the blessed assurance that the best is yet to come. Keep your fork this Christmas.


AND NOW YOUR CHRISTMAS MIRTHFUL MOMENT...


"Every Christmas pageant throughout the world has a scene showing Joseph leading Mary into Bethlehem on a donkey. Do you realize what would happen if the Republicans demanded equal time?" --Robert Orben


AND NOW YOUR YouTube CHRISTMAS MOMENT...


Enjoy Matthew West singing "One Last Christmas", one of the most touching and inspiring Christmas music videos you will ever see. See how a community worked as one to give one special young boy one last Christmas.



Your Host for our 12 Day Journey to Christmas.
Terry Paulson, PhD
http://www.terrypaulson.com