The Twelve Days of Christmas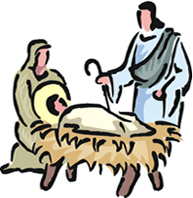 Day Eight...December 21, 2012


Terry Paulson, PhD, CSP, CPAE



On the Eighth Day of Christmas my true friend gave to me...
An opportunity to use this moment for God...


This year, each message will be archived on my website, and you can see some past collections of messages by visiting that website now at

http://terrypaulson.com/christmas.shtml


A CHRISTMAS THOUGHT FOR THE DAY..."Christmas Tugs Us Homeward"



"Too many people think that God is preparing them for some grand purpose in the future, for a more noble mission, or for a better career. But I think all our past experiences fit us for today. It's why God tells us to 'make the most of the moment' and 'redeem the opportunity.' Few of us pay sufficient attention to the importance of the moment." --Joni Eareckson Tada
...Maybe this Christmas your Christmas gift is in the moment before you right now.... What opportunity is a blessing you can give today? Could it be a song that stirs hope?




I LOVE TO TELL THE STORY..."The Gift of a Brother's Song"


When Karen found that another baby was on the way, she involved her 3-year-old son, Michael, in preparing for a new sibling. He eagerly joined in building a bond of love with his little sister. The pregnancy progressed normally as the family approached Christmas, but when the labor pains came close Karen was off to the hospital. When complications arose during a protracted delivery, the baby was taken by C-section. The newborn was in very serious condition. The infant was taken by ambulance to the Intensive Care Unit at St. Mary's Hospital in Knoxville. The pediatrician talked to the parents and told them, "There is little hope. We're doing what we can, but you need to prepare yourself for the worst."
As the days progressed, Michael pleaded to see his sister, but the intensive care unit did not allow children. Michael kept nagging that he wanted to sing to his sister. Finally, Karen decided to take Michael whether they liked it or not. She hid him behind her as she entered the unit, but the head nurse saw him and bellowed, "No children are allowed!" Mild-mannered Karen glared steel-eyed right into the head nurse's face, "He is not leaving until he sings to his sister."
Karen towed Michael to his sister's bedside. He gazed at the tiny infant losing her battle for life. After a moment, he began to sing in a pure-hearted voice that only a 3-year-old can do: "You are my sunshine, my only sunshine, you make me happy when skies are gray..." Instantly the baby girl began to respond. Her pulse rate began to calm down and became steady. The nurse now joined in, "Keep on singing, sweetheart." "You never know dear, how much I love you. Please don't take my sunshine away." Tears formed in Karen's eyes as she watched her daughter's ragged, strained breathing become as smooth as a kitten's purr. "Keep on singing, Michael."
"The other night, dear, as I lay sleeping, I dreamed I held you in my arms..." Healing rest seemed to sweep over the infant. "You are my sunshine, my only sunshine. Please don't take my sunshine away...." The next day...the very next day...the Michael's little sister was well enough to go home. The medical staff just called it a miracle. Karen called it a Christmas miracle of God's love provided by one very special brother!
...This Christmas, never give up on the people you love. Maybe even sing a few songs to someone who needs to find a bit of music in their life.


AND NOW YOUR MIRTHFUL CHRISTMAS MOMENT...


"The worst gift is fruitcake. There is only one fruitcake in the whole world, and people keep sending it to each other." --Jonny Carson

AND NOW YOUR YouTube CHRISTMAS MOMENT...


For a true change of pace, you will enjoy Santa and his reindeers giving life and laughter to "The Drifters" version of "White Christmas."


Remember, You can find the archived messages from this year's series on my website at http://terrypaulson.com/christmas.shtml. For now, keep your sense of humor and your sense of thanksgiving and anticipation! More tomorrow...as we prepare for His coming!



Your Host for our 12 Day Journey to Christmas.

Terry Paulson, PhD
http://www.terrypaulson.com