The Twelve Days of Christmas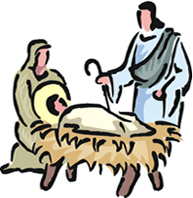 Day Seven...December 20, 2012


Terry Paulson, PhD, CSP, CPAE



On the Seventh Day of Christmas my true friend gave to me...
A Gift for Giving…



This year, each message will be archived on my website, and you can see some past collections of messages by visiting that website now at

http://terrypaulson.com/christmas.shtml


A CHRISTMAS THOUGHT FOR THE DAY..."Room in Our Inn"



"In each heart lies a Bethlehem, an inn where we must ultimately answer whether there is room or not." --Ann Weems, The Lutheran, December 1999




I LOVE TO TELL THE STORY..."A Christmas Blessing Full Circle"


It was the weekend before Christmas. I had finished all the preparations, but I had saved laundry for the last chore. I went to the laundry room at our apartment. My fatigue was probably more mental than anything. I was worried. I had just received word that I would be laid off from my job in January. I was thinking of the Christmas, rent, the bills. The sound of the washing machine churned more worries in my mind. I than realized that there was another woman in the room that I had not spoken to. Her head was down, and she looked so sad. I said the first hello. She looked so tired as she talked about recently moving from Texas. Her husband had been recently laid off from a low-paying job that had taken him weeks to find. She confessed that their Christmas had been all but canceled for her family. But the woman said, "Christmas isn't about gifts, or even a tree. It's about Jesus, and my little girl knows that."
Later that evening, as I sat comfortably looking at our Christmas three with its twinkling lights. I felt fortunate that we had enough money to buy a real tree and a few precious gifts. Suddenly, my mind went to the woman in the laundry room. She was the man with no legs. My mom had always said, "Never complain about not having shoes because you may meet a man with no legs." She was worse off than me. Her heart was in the right place; she knew Christmas was about Jesus. It was as if God was reminding me that Christmas was indeed a giving season. I knew what I had to do. I grabbed a Christmas card, placed a crisp $50 bill inside, asked God not to allow me to not worry about money anymore. Then I set out to find the woman in the laundry room.
After 15 minutes of walking around the halls of the apartment building, I prayed that God might lead me to her. Out of the corner of my eyes I saw the woman turning the corner in the stairwell, walking right toward me. I gave her the card and walked away. I felt fortunate that she had reminded me of the true spirit of Christmas. Two days later, I visited a gentleman in the building who had lost his wife. I just wanted to wish him a merry Christmas, nothing more. Shortly thereafter, I received a Christmas card from this very soul. I had to laugh and cry at the same time when I opened the card. You see, inside was a check for $50, and I knew I had experienced a full-circle blessing.
--Norma Tobin, Ventura County Star, B7, 12-25-01


AND NOW YOUR CHRISTMAS MIRTHFUL MOMENT...


"Christmas is the time when people put up so many blubs on the outside of their houses, you don't know whether they're celebrating the birth of Jesus or the electric company. In fact, one neighbor had 1500 lights! Every time he shut it off, the electric company says, 'What was that?'" --Robert Orben


AND NOW YOUR YouTube CHRISTMAS MOMENT...


It's hard to believe that the voice coming out this singer is from a little girl!! Watch her beautifully sing "Mary Did You Know?"


Remember, You can find the archived messages from this year's series on my website at http://terrypaulson.com/christmas.shtml. For now, keep your sense of humor and your sense of thanksgiving and anticipation! More tomorrow...as we prepare for His coming!



Your Host for our 12 Day Journey to Christmas.

Terry Paulson, PhD
http://www.terrypaulson.com