The Twelve Days of Christmas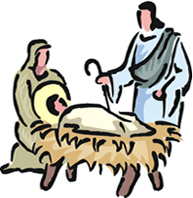 Day Five...December 18, 2012


Terry Paulson, PhD, CSP, CPAE



On the Fifth Day of Christmas my true friend gave to me...
A Rejection of My "Perfect" Christmas!



This year, each message will be archived on my website, and you can see some past collections of messages by visiting that website now at

http://terrypaulson.com/christmas.shtml


A CHRISTMAS THOUGHT FOR THE DAY..."No Disney Fairy Tale"



"The Christmas story is nothing like the Disney fairy tales where all your self-centered dreams come true. No rags-to-riches. No happily-ever-after that the world would understand. Taking the Christ Child into our hearts does not guarantee our cancer will be cured, our jobs will be secure or our children will be above average. We aren't wishing upon a star. We're being led by one. But the message of this season is clear: Nothing is impossible with God. The Christmas angels tell us there are no God-forsaken people or places. Emmanuel is here--God with us, and with us all the time." --Mary W. Anderson, The Lutheran, December 1999




I LOVE TO TELL THE STORY..."The Plastic Baby Jesus"


It was to be our last Christmas in our Cedar Ridge home, the home in which we had raised our four children and welcomed grandchildren, friends, and our "adopted" college kids for decades of Christmases. I had gone all-out to decorate the house to perfection, and our children and their kids were coming to our house immediately after church on Christmas Day.
When our son David arrived with his family, we hugged at the door. Suddenly, Luke, their two-and-a-half-year old, breezed by us all and raced for the nativity set in the family room. Look took out the Italian-made Baby Jesus and hid him in the stable as we watched in amusement. Then he pulled out a little handmade box with something all wrapped up in a blue cloth. He then whacked down right in the center of the manger a large, plastic doll that was twice the size of Mary and Joseph. This baby Jesus did not fit at all.
My first thought, "Oh, my goodness, you've ruined the whole thing!" But then Luke looked up at me with his eyes shining and said, "Isn't my baby Jesus beautiful?" as he admired his plastic doll in the manger. My heart melted. And from that Christmas to this day, Luke's plastic baby Jesus is our baby in the manger. And although he's six-two and in college now, every year at Christmas when we put out the manger scene with Luke's celluloid doll, we think of the wonder of a two-year-old and the memory of that Christmas long ago.
--Dorothy Shllenberger
...After all, God didn't come into a perfect first Christmas or into a perfect world. He came into an imperfect world that we might have life eternal with Him.


AND NOW YOUR CHRISTMAS MIRTHFUL MOMENT...


"When Ryan, our 4-year-old grandson, arranged the figures in our Nativity display, he clustered them all together. That evening I arranged them to be more pleasing to the eye, but the next day he put them back. When I asked him why, he said, 'Nana, don't you know that everyone wants to be close to Jesus.'" --Mabel Gewiss, The Lutheran,December 1999


AND NOW YOUR YouTube CHRISTMAS MOMENT...


Enjoy a Social Network Christmas. This modern take on the birth of our Savior highlights the truths and circumstances of His arrival in a fresh, unique way. You will LOVE this high tech journey!


Remember, You can find the archived messages from this year's series on my website at http://terrypaulson.com/christmas.shtml. For now, keep your sense of humor and your sense of thanksgiving and anticipation! More tomorrow...as we prepare for His coming!



Your Host for our 12 Day Journey to Christmas.
Terry Paulson, PhD
http://www.terrypaulson.com