The Twelve Days of Christmas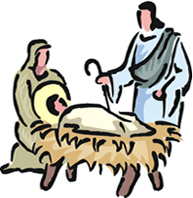 Day One...December 14, 2012


Terry Paulson, PhD, CSP, CPAE



Once again we look to the coming of the Christ child; we are drawn to a need for traditions, family, friends and faith. Traditions and holidays are the stuff that binds people together. I trust that the stories, thoughtful quotes, mirthful Christmas humor and YouTube links supplied in my Seventeenth annual "12 Days of Christmas" E-mail messages will help you and yours keep this Christmas focused on Christís coming. I thank in advance all those who sent in stories and humorous moments of mirth for all of us to enjoy.


This year, each message will be archived on my website, and you can see some past collections of messages by visiting that website now at

http://terrypaulson.com/christmas.shtml


A CHRISTMAS THOUGHT FOR THE DAY..."The Power of Prayer"



I believe that God only gives three answers to prayer:
1. "Yes!"
2. "Not yet."
3. "I have something better in mind."
You may be going through a tough time right now but God blessed us by sending His Son that we might have life. AND He's getting ready to bless you in a way that you cannot imagine...in His own way and in His own time.




I LOVE TO TELL THE STORY..."A Christmas Alone and Never Missed"


This story about George Mason first appeared in my 12 Days of Christmas in 2000. It was too meaningful not to appreciate again by starting our 12 Days...twelve years later.
George Mason had never been the same since that very different Christmas. You see, as the manager, George was the last employee to leave the bank. He had walked into the vault to put away the final trays. Behind his back, slowly and noiselessly, the door had swung shut leaving George in utter darkness. He hurled himself against the door and screamed until he was hoarse. He realized he would be locked in until the next morning. Then he realized it was Christmas Eve. More than 36 hours would pass before anyone wound come; 36 hours in a room three by eight with but one small vent of fresh air. Surely somebody would miss him, but who?
He was unmarried and lived alone. He had given his servant the time off; since he treated her as a servant, there would be no reason to call. He had been invited to his brothers for Christmas Eve but he had declined because children got on his nerves. A friend has asked him to play piano on Christmas day at a home for the elderly, but he had made some excuse to have time alone. He would remain alone until the bank opened. He said nothing to the clerk who opened the vault, moving quickly to the water fountain to gulp down water. Over that year, George, in small hesitant steps, reached out with deeds of kindness and took time to enjoy family and friends. Inside his desk drawer he had placed a quote by J. Edgar Park, written now in George's own handwriting: "To love people, to be indispensable somewhere, that is the purpose of life. That is the secret of happiness."
...On this Christmas, who would miss you and what would you be missed for?


AND NOW YOUR CHRISTMAS MIRTHFUL MOMENT...


"Do you know what would have happened if it had been Three Wise Women instead of Three Wise Men? They would have asked for directions, arrived on time, helped deliver the baby, cleared the stable, made a casserole, and brought practical gifts." --Gini Horan



AND NOW YOUR YouTube CHRISTMAS MOMENT...


The best gifts don't always come with bows and fancy gift wrapping. All this little girl wanted was ONE thing--the return of her dad from Iraq. In God's perfect timing, He brings this father and daughter back together in one of the most memorable surprise homecomings ever!


Remember, You can find the archived messages from this year's series on my website at http://terrypaulson.com/christmas.shtml. For now, keep focused on Christ--the reason for the season! More tomorrow...as we prepare for His coming!



Your Host for our 12 Day Journey to Christmas.
Terry Paulson, PhD