The Twelve Days of Christmas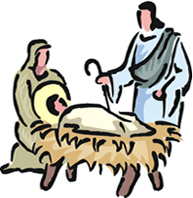 Day Seven...December 20, 2011


Terry Paulson, PhD, CSP, CPAE



On the Seventh Day of Christmas my true friend gave to me...

A baby who changes everything...

This year, each message will be archived on my website, and you can see some past collections of messages by visiting that website now at

http://terrypaulson.com/christmas.shtml


A CHRISTMAS THOUGHT FOR THE DAY…"A President's Christmas Eve Address"



In a throwback to a time, Presidents could openly share their faith, let's enjoy the comments of President Harry Truman. In his Christmas Eve address of 1949, he said: "Since returning home, I have been reading again in our family Bible some of the passages which foretold this night. . . . We miss the spirit of Christmas if we consider the Incarnation as an indistinct and doubtful, far-off event unrelated to our present problems. We miss the purport of Christ's birth if we do not accept it as a living link which joins us together in spirit as children of the ever-living and true God. In love alone – the love of God and the love of man – will be found the solution of all the ills which afflict the world today."


And on Christmas Eve, 1952, he declared: "Through Jesus Christ the world will yet be a better and a fairer place. This faith sustains us today as it has sustained mankind for centuries past. This is why the Christmas story, with the bright stars shining and the angels singing, moves us to wonder and stirs our hearts to praise. Now, my fellow countrymen, I wish for all of you a Christmas filled with the joy of the Holy Spirit, and many years of future happiness with the peace of God reigning upon this earth."


May it be so even today that leaders will openly declare the joy of Christmas that renews their faith in God.




I LOVE TO TELL THE STORY..."The Gift of Children"


A couple of years ago I was in the midst of all my Christmas time planning, decorating and entertaining. Like most parents of young children, I get caught up in trying to do too much during the holidays. It's not that I don't know better but it is just so hard to resist wanting to do it all: bake cookies, go Christmas caroling, get together with friends we've missed, make special gifts for those who mean so much to us throughout the year.


I love to listen to Barbara Streisand's Christmas album. One of the wonderful songs is entitled 'The Greatest Gift,' and it is about how the best present in the world cannot be found under the Christmas tree, but it's God's gift of children. For some reason, in the middle of the hectic times, the song really resonated with me. The message just rang out to me as if God was sending me a personal message to wake up to all my blessings.


I stopped my wrapping and picked up my daughter Kelli and we danced around and around to that song. James wanted in, so we danced next. Now, it's a tradition that began by accident. We dance together every year, and although I'm sure it means a lot more to me than to them, they jump at the chance to be my dance partner. In years to come I don't know that I'd remember the parties or the chaos, but I know I'll remember a simple moment my children and I reenact every year.


--Dina Barmasse


…No matter what the past traditions, time with friends and family is one of the greatest of God's gifts at any season. I just hope you take time to do a little dancing of your own!


AND NOW YOUR YouTube CHRISTMAS MOMENT...


As an encore from last year, listen to Faith Hill perform one of my Christmas favorites—"A Baby Changes Everything." Enjoy...


Remember, You can find the archived messages from this year's series on my website at http://terrypaulson.com/christmas.shtml. For now, keep your sense of humor and your sense of thanksgiving and anticipation! More tomorrow...as we prepare for His coming!



Your Host for our 12 Day Journey to Christmas.


Terry Paulson, PhD
http://www.terrypaulson.com