The Twelve Days of Christmas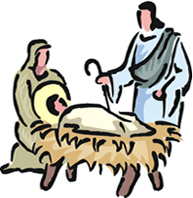 Day Six...December 19, 2011


Terry Paulson, PhD, CSP, CPAE



On the Sixth Day of Christmas my true friend gave to me...

A new start to my lifeÖ

This year, each message will be archived on my website, and you can see some past collections of messages by visiting that website now at

http://terrypaulson.com/christmas.shtml


A CHRISTMAS THOUGHT FOR THE DAY..."Christmas for our Children"



What do we want for our children?

As we come to the close of the year?

Are the holidays a highlight

Or are they something to fear?


The duties on which we focus -

The presents, the goodies and toys,

Are they the most important?

Or is it love and peace and joys?


What did you cherish as a child,

What are the memories you see?

Time spent hurrying through malls,

Or time sitting on Daddyís knee?


It wasnít the cookies themselves,

Although they were fun to eat,

It was laughing and decorating together

That was the part thatís hard to beat.


The quiet times in front of the fire

Relaxing with nothing to do,

A favorite gift was one fixed with love

A two-wheel bike that wasnít new.


Itís singing Christmas carols

Going door to door in the snow.

Itís holding hands in church

Singing in the candle glow.


Let the children know the Spirit,

Let the children feel the Love,

Pray our families will be guided

By the Power from above.


The gift of time and patience

A smile and a listening ear,

To know we care and our laughter

Are the gifts they want this year.


--Lynn Durham, RN, www.LynnDurham.com

Author of From Frazzled to Fantastic! You're One Thought Away From Feeling Better Available now from the author, soon on Amazon https://www.createspace.com/3731496




I LOVE TO TELL THE STORY..."Presents Wrapped in Prayer"


Faye Narron found new insights for Christmas as she read Philippians 1:3-6 (NIV): "I thank my God every time I remember you. In all my prayers for all of you, I always pray with joy because of your partnership in the gospel from the first day until now, being confident of this, that he who began a good work in you will carry it on to completion until the day of Christ Jesus." The tradition she started might be worth starting yourself as you make gift giving something very special. Faye writes:


I have begun a new personal tradition this year, and I am saddened that I did not hear God's voice in this activity before now. As I have wrapped Christmas presents for friends and family members, God has led me to pray fervently for each person as I have wrapped his or her gift. This has been a blessed time of rejoicing and praise for me and has made another "necessary chore" a joyful act.


Praying as I cut and tape wrapping paper, tie bows, and complete name tags has sometimes even made me reach for a tissue as the Holy Spirit renews my soul to overflowing with each step. My daughter, Becky, and her husband and precious little twin sons will not be with us this Christmas, but I am blessed to speak with them often by phone and praise God for His work in and through them in their ministry in New Hampshire. I also give thanks and praise for the work God is doing in the lives of my daughter, Jackie, and her husband. I pray for my husband as he works and lovingly cares for me. I continue to pray for my mother's healing and freedom from her pain. I pray for my mother-in-law who will be 90 on Christmas Day. And the prayers go on and on . . .


Disney's Snow White sings "Whistle While You Work" as she cleans the dwarfs' cottage. I challenge you today to "pray while you wrap" your Christmas presents and praise and thank God for all the blessings in your life -- another opportunity to practice being joyful always and praying without ceasing (see 1 Thessalonians 5:16-17). Let us also remember to thank and praise God for the perfect gift of His Son, Who was wrapped so carefully in swaddling clothes on that first Christmas Day. To God be the glory forever!!


AND NOW YOUR YouTube CHRISTMAS MOMENT...


Barb Chesney sent me this link. I hope this new Christmas song by Becky Kelley touches you as much as it does me. Yes..."Where's The Line To See Jesus"... Enjoy!


Remember, You can find the archived messages from this year's series on my website at http://terrypaulson.com/christmas.shtml. For now, keep your sense of humor and your sense of thanksgiving and anticipation! More tomorrow...as we prepare for His coming!



Your Host for our 12 Day Journey to Christmas.


Terry Paulson, PhD
http://www.terrypaulson.com