The Twelve Days of Christmas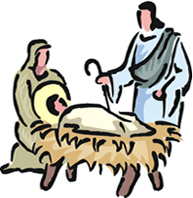 Day Four...December 17, 2011


Terry Paulson, PhD, CSP, CPAE



On the Fourth Day of Christmas my true friend gave to me...

A Baby to Win Our Hearts…

This year, each message will be archived on my website, and you can see some past collections of messages by visiting that website now at

http://terrypaulson.com/christmas.shtml


A CHRISTMAS THOUGHT FOR THE DAY..."A Baby Wins Our Heart"



Pastor Erling Wold was another saint who served us at New Hope Lutheran was in Westlake Village. In honor of his ever-present spirit of joy that impacted every person he met, I included this quote in my 12 Days of Christmas in 1997. I was so moved reading it again, I decided to include it again this year:
"What a way for God to get to us! What a way to win our hearts! God comes, but not with pageantry. Not with invading forces. Not with illusions and lies that stumble and fall under their own weight. God says, 'Behold your God... .' and it turns out to be only a baby! Our lord knows just how to win us. A baby claims every eye in a gathering and catches us by its heart-charming smile, its facial changes. We listen to its gurgling laughter and love all of its antics. It's hilarious, isn't it? God comes to us utterly helpless. No human comes more in need of us than a baby, and no one can grab our hearts in his cupped hands like the baby Jesus! No one can get to us like this worldless Word of God. Hilarious? This God who formed and threw out stars and universes stoops to become my neighbor, my confidant, my friend. He comes as a little beggar into our hearts, our homes, our lives. Hallelujah!"




I LOVE TO TELL THE STORY..."Not Just Any Nativity"


The old manger has seen better days. A few of the sheep have lost a leg or two, and the camels and wise men don't look too good either. But the Nativity scene Inez Mendoza bought at Woolworth's 75 years ago to teach her children the real meaning of Christmas is still on the job.

"It was on sale for $10 because someone had stolen baby Jesus from the manger. My mother had an extra baby Jesus at home so she bought it," Ruth Loza said, leaning a couple of the one-legged sheep against the manger wall.

Ten dollars was a lot of money in 1934 -- more than a man making his living as a gardener and handyman in North Hollywood could comfortably afford. But Trinidad Mendoza understood why his wife had spent the money. The real story of Christmas was just too important to scrimp on. They didn't have money for gifts, but they had enough for this.

"My father would buy a little tabletop tree on Christmas Eve, and Mom would put the manger under it," Ruth said. "Then my brothers and sisters and I would sit in front of the Nativity scene for hours listening to my mother talk about why Mary and baby Jesus were in the manger, and who the wise men were."

She shared the real meaning of Christmas. There were no presents under the tree. No tears or long faces from the kids because they hadn't gotten what they wanted. They were used to it. They never got what they wanted for Christmas. It was 1934, and the country was in the middle of a crippling depression.

They had a small tree, a manger, and a roof over their heads. That was more than a lot of families had. Be thankful, Inez Mendoza told her children. "Mom would take us to the department store to see Santa, and we'd all ask for something, but knew we wouldn't be getting it," Ruth said.

Angelica Rogers, one of Ruth's four children, remembers every one of those Christmases growing up. The only thing that changed over the years was the tree got bigger and a few presents began appearing next to the old manger. Times were getting better.

"I used to put cotton on baby Jesus to keep him warm," she said, visiting her mom this week. "Every Christmas mom sat us down in front of that manger and told us the same story her mother told her. Now, she's telling it to her eight grandchildren. It's been the focal point of Christmas in our family for 75 years."

And it will remain that way hopefully for another 75 years -- until the old manger can't stand anymore, and all the sheep, donkeys, camels and wise men have broken their legs. Until then, the $10 Nativity scene -- without a baby Jesus -- Inez Mendoza bought on sale at Woolworth's 75 years ago will continue to tell the story of the real meaning of Christmas.

Are you telling the true story of Christmas to your family this year? Maybe, it's not too late to start a lasting tradition that your family will treasure as much as the Mendoza family.
"Not Just Any Nativity," appeared in Dennis McCarthy's Daily News column in 2009.


AND NOW YOUR YouTube CHRISTMAS MOMENT...


Charles Schultz, a devout Christian with a sense of humor, said: "No one would have been invited to dinner as often as Jesus was unless he was interesting and had a sense of humor." Martin Luther said: "If you're not allowed to laugh in heaven, I don't want to go there." In that spirit, I hope you enjoy this humorous but thought-provoking skit that highlights the true meaning of Christmas. Enjoy!


Remember, You can find the archived messages from this year's series on my website at http://terrypaulson.com/christmas.shtml. For now, keep your sense of humor and your sense of thanksgiving and anticipation! More tomorrow...as we prepare for His coming!



Your Host for our 12 Day Journey to Christmas.


Terry Paulson, PhD
http://www.terrypaulson.com