The Twelve Days of Christmas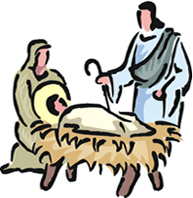 Day One...December 14, 2011


Terry Paulson, PhD, CSP, CPAE



Sorry for the early sending of this first message, but the rest will be following daily starting again on the 15th. But this one is worth resending. Once again we look to the coming of the Christ child; we are drawn to a need for traditions, family, friends and faith. Traditions and holidays are the stuff that binds people together. I trust that the stories, thoughtful quotes and YouTube links supplied in my Sixteenth annual "12 Days of Christmas" E-mail messages will help you and yours keep this Christmas focused on Christís coming. I thank in advance all those who sent in stories and humorous moments of mirth for all of us to enjoy.


This year, each message will be archived on my website, and you can see some past collections of messages by visiting that website now at

http://terrypaulson.com/christmas.shtml


A CHRISTMAS THOUGHT FOR THE DAY..."Mary Did You Know"



There is a verse from one of my favorite Christmas songs that continues to inspire me every year. When Kenny Rogers sings, Mary Did You Know, the verse that strikes me is the one that asks, "Mary, did you know that the child you once delivered would one day deliver you?"

May we never forget that in all the talk of the baby Jesus we must never forget what he came for--He came to live and to die that we might have eternity with God. That little baby came not to be sung to but to save you and me.




I LOVE TO TELL THE STORY..."My First Christmas in Heaven"


This poem was sent to me years ago from my aunt Lora's daughter Kris. Kris wrote to us: "When Mom wasn't doing very well health-wise, she sent me this poem. I got really sad at first imagining Christmas without her. About a second later, I thought what a wonderful way to remind me that when she does go to be with the Lord, she will have the most glorious Christmas ever!" This year it was my father who joined the cloud of witnesses in heaven. At the celebration of his life on December 4th, his nephews and niece read this poem in honor of my dad, Homer Paulson. You can read about my dad in a tribute I wrote for Townhall.com. As you think of loved ones no longer with you, may it bring you comfort and an anticipation of a reunion yet to come.


I've had my first Christmas in heaven,

A glorious, wonderful day!

I stood with the saints of the ages,

Who found Christ, the truth and the way.


I sang with the heavenly choir,

Just think! I who long to sing!

And on, what celestial music.

We brought to our Savior and King!


We sang the glad songs of redemption,

How Jesus to Bethlehem came,

and how they had called His name Jesus,

that all might be saved through His name.


We sang once again with the angels,

The song that they sang that blessed morn.

When shepherds first heard the glad story,

That Jesus, the Savior was born.


Oh, I wish you had been here;

No Christmas on earth could compare,

With all the rapture and glory,

We witnessed in heaven so fair.


You know how I always loved Christmas,

It seemed such a wonderful day;

With all of my loved ones around us,

The children so happy and gay.


Yes, now I can see why I loved it,

And oh, what a joy it will be.

When you and my loved ones are with me

To share in the glories I see.


So, dear ones on earth, here's my greeting;

Look up till the day dawn appears,

And oh, what a Christmas awaits us

Beyond all the partings and tears!


AND NOW YOUR YouTube CHRISTMAS MOMENT...


To various images of Mary and the baby Jesus, we hear Kenny Rogers and Wynonna Judd sing the stirring Mary Did You Know....


Remember, You can find the archived messages from this year's series on my website at http://terrypaulson.com/christmas.shtml. For now, keep focused on Christ--the reason for the season! More tomorrow...as we prepare for His coming!



Your Host for our 12 Day Journey to Christmas.


Terry Paulson, PhD