The Twelve Days of Christmas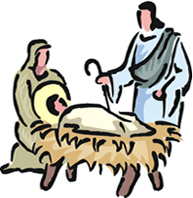 Day Twelve...Christmas Day...December 25, 2010


Terry Paulson, PhD, CSP, CPAE



On the Twelfth Day of Christmas my God gave to me...
His most precious gift, His Son!



As we celebrate our Lord's birth, we think of loved ones present and far away. We think of loved ones who are absent from us but present now with the Lord.
As with past years, each message this year has been archived on my website, and you can also see some past collections of messages by visiting that website at http://www.terrypaulson.com/christmas.shtml

A CHRISTMAS THOUGHT FOR THE DAY... "A Christmas Prayer"



May you enjoy this classic Christmas morning prayer by Henry Van Dyke:
"The day of joy returns, Father in Heaven, and crowns another year with peace and good will. Help us rightly to remember the birth of Jesus, that we may share in the song of the angels, the gladness of the shepherds, and the worship of the wise men. Close the doors of hate and open the doors of love all over the world. Let kindness come with every gift and good desires with every greeting. Deliver us from evil, by the blessing that Christ brings, and teach us to be merry with clean hearts. May the Christmas morning make us happy to be thy children, and the Christmas evening bring us to our bed with grateful thoughts, forgiving and forgiven, for Jesus' sake. Amen."
Lord, this Christmas, please let Your kingdom come in each of us and make us more like You.




I LOVE TO TELL THE STORY... "The Promised Ride"


This story by Derric Johnson, in Honor Book's The Wonder of Christmas, tells a story that first appeared in my 12 Days of Christmas in 2000. May you enjoy it's simple and heartfelt message:
"In Los Angeles on Christmas morning twenty-five years ago, Father Hopkins unlocked the church doors in preparation for 6:00 am mass. A quick perusal of the sanctuary showed everything in order.... Then,...Father Hopkins...noticed the Christ child was missing from the nativity scene. In the frantic search that followed, there was no sign of the statue.
Everything else in the scene was untouched. The focal point was conspicuous by its absence. Who would do such a thing?
No one was sure, but one fact was certain: someone had walked into the chapel and stolen Christ right out of Christmas. Then, just before the 9 o'clock service, a little boy appeared at the front door of the church. He was pulling a brand new wagon, and in the wagon was the missing statue. 'Juan, where did you find Jesus?'
Father Hopkins asked. 'Oh, I didn't find Him, I took Him,' the boy replied. When Father Hopkins asked Juan why, he said, 'Well, I prayed to Jesus for a new wagon, and I promised that when it came, I'd give Him the very first ride.'"
Are you keeping your promises for the blessings you have received from God today and every day? May the New Year spread our Christmas blessings throughout the year.


AND NOW YOUR YouTube CHRISTMAS MOMENT...


Remember the Greatest Gift...Unto us a child is born...and enjoy these key scenes from The Nativity to appreciate the reason for the season.


SORRY--IT'S TOO LATE TO TAKE YOUR NAME OFF THE LIST---SO JUST HAVE A VERY MERRY CHRISTMAS. SEE YOU NEXT YEAR!
We no longer prepare for his coming...for He has come! Try sharing the Christmas story today with those you love from the source that matters, the Word of God. Read out loud Luke 2: 1-20 as part of your Christmas celebration.
Remember, You can find the archived messages from this year's series on my website at http://www.terrypaulson.com/christmas.shtml.
For now, let me close with these words from Mother Teresa:
It's Christmas every time you let
God love others through you...
every time you smile at your brother
and offer him your hand.



Signing off for 2010....Your Host for the Journey,

Terry Paulson, PhD