The Twelve Days of Christmas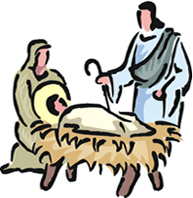 Day Eleven...December 24, 2010


Terry Paulson, PhD, CSP, CPAE



On the Eleventh Day of Christmas my true friend gave to me...
A gift given in my honor...



This year, each message will be archived on my website, and you can see some past collections of messages by visiting that website now at

http://www.terrypaulson.com/christmas.shtml


A CHRISTMAS THOUGHT FOR THE DAY... "The Gift of Family"



Oh God, thank You for this precious time when our family is together...looking again at Christmas pictures taken when we were younger...sharing Christmas memories we have shared before...singing together the familiar old carols...enjoying special handed-down recipes...experiencing family traditions...eating together and praying together as we come once again to celebrate Christ's birth.





I LOVE TO TELL THE STORY... "A Gift from Someone with Everything"


This story from Norman Vincent Peale first appeared in 12 Days of Christmas in 2000. Dr. Peale is no longer with us, but his stories remain to inspire us. He tells of one Christmas were a young girl from Switzerland had come to the US to live with a family in hopes of perfecting her English. In return she agreed to act as a personal Christmas secretary and help watch visiting grand children. She was grateful for her host family and wanted to give them a special gift. She unfortunately had little money and New York she found an expensive place to shop. Besides it was apparent to the teen that her hosts had everything. Two nights before Christmas in the solitude of her room, an idea came to Ursala. She went to a local store and bought a dress for a very young child and wrapped it in colorful wrapping.
She went out into the gray twilight of New York. She first asked a doorman in broken English, "Excuse me, can you tell me where to find a poor street?" "You might try Harlem or the Lower East Side," came the reply. These names meant little to Ursala but she headed off into the street asking as she went, "Can you direct me to a very poor street in Harlem?" She got quizzical looks and fingers pointing a direction. A policeman warned her that Harlem was no place for her, but she moved on.
She then heard the tinkle of a bell and looked to find a familiar sight, a Salvation Army man was making a traditional Christmas appeal. She had seen such men in Switzerland where they also served the poor. Surely, he would know how to find a poor child in need of a dress. The man listened to her plea and assured her there were many children she could help. She wanted to know where she could find them so she could take a taxi to their door. Not wanting to have her go alone, the man offered to go with her as soon as shift was over. Together they took a taxi. Both the man and taxi driver listened intently as she shared her story of why she so desperately wanted to find a child who needed a gift.
Not wanting to be thanked herself, she asked the man to take the gift to the door and to say, "It's from someone who has everything." The taxi took her back home, but as she fumbled with her purse, the driver said, "No charge, Miss. I've been paid." On Christmas morning there was no gift to unwrap for her hosts, only a story to tell. How did Norman Vincent Peale know of the gift; he and his wife were the hosts. They were both touched by a gift of the heart carried out in their names. By trying to give away love, she brought the true spirit of the season into their lives, the spirit of selfless giving.
By any chance do you know any people who have everything, and you don't know what to get them? Try an Ursala!


A MIRTHFUL CHRISTMAS MOMENT...


In 1997, Julie Cline shared this fun story and it graced that yearís 12 Days of Christmas:
Carol had a dear friend who would come over each year and decorate her home for Christmas while Carol was at work. They also shared the same cleaning lady. One year, the cleaning lady was at Carol's house. Over the answering machine speaker she heard the neighbor leave a message, 'Carol, I've looked and look and I can't find Jesus, Joseph and Mary. Do you know where they are?' Later that day the cleaning lady was at the neighbor's house and happened to overhear Carol's response over the neighbor's answering machine, 'I found Jesus, Joseph and Mary under the bed; they've been there all year!'"
So thatís where they went after leaving Bethlehem!


AND NOW YOUR YouTube CHRISTMAS MOMENT...


Last year, Ted Rogers struggled to find the right way to send his holiday greetings. He found it in a special arrangement by Dan Forrest of the Christmas classic, the First Noel. May you enjoy this performance of that arrangement by the University of Utah Choir. Itís his wife's favorite Christmas Carol. Enjoy the harmonies and melodies and let the lyrics and music move you in ways only found during this magical season!


Remember, You can find the archived messages from this year's series on my website at http://www.terrypaulson.com/christmas.shtml. For now, keep your sense of humor and your sense of thanksgiving and anticipation! More tomorrow...as we prepare for His coming!



Your Host for our 12 Day Journey to Christmas.

Terry Paulson, PhD