The Twelve Days of Christmas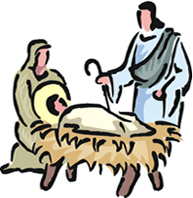 Day Seven...December 20, 2010


Terry Paulson, PhD, CSP, CPAE



On the Seventh Day of Christmas my true friend gave to me...
A baby who changes everything...



This year, each message will be archived on my website, and you can see some past collections of messages by visiting that website now at

http://www.terrypaulson.com/christmas.shtml


A CHRISTMAS THOUGHT FOR THE DAY... "A Baby Changes Everything"



"A mentally disturbed king. A powerful conqueror. A tumultuous engagement. A new marriage. A pregnancy that generated whispers and rumors. An arduous journey. The wrong setting to deliver a child. But a baby is born, and this Baby changes everything. Angels sing. Shepherds and wise men worship. A mother's prayer of praise is heard throughout generations.
No matter what circumstances surround you this Christmas, never forget. A Baby changes everything."
www.Inspired Faith.com, December 24, 2009


A CHRISTMAS COLUMN FOR THE DAY... "A Christmas Gift of Community"



I hope you can enjoy my Townhall.com column today on A Christmas Gift of Community. May your Christmas experience this year remind you of the importance of community and faith that comes from your faith family all year long!




I LOVE TO TELL THE STORY... "Donít GoÖ"


In 1995, this wonderful story caught my eye to be included in my 12 Days of Christmas. At a traditional Christmas pageant, there is never room in the inn for Mary and Joseph on that first Christmas.
Donna Donohue writes of a very special nine-year-old boy who never seemed to fit in. In fact, Wallace was large and slow for his age. He was friendly with everyone, but most of the other boys didn't want to play with him.
At the Christmas play, he had wanted to be the shepherd, but because of his large size he was given the roll of innkeeper because he could look forceful and had few lines to memorize.
In the play, he waited for Mary and Joseph to knock on the door. "What do you want?" Wally said brusquely.
"We seek lodging," pleaded Joseph.
"Seek it elsewhere. The inn is filled," boomed Wally with force.
"Please, good Innkeeper, this is my wife, Mary. She is heavy with child. Surely you must have some small corner for her to rest."
Now, for the first time, Wally looked down at Mary. There was a long pause, long enough to make the audience uncomfortable with embarrassment for Wally... Had he forgotten his lines?
The prompter whispered from the wings, "No! Be gone!"
Wally, repeated by rote, "No! Be gone!" He watched as Joseph put his arm around Mary, and the two started to move away. Wally stood at the doorway, his eyes filling with tears.
Suddenly, this Christmas pageant became different from all others. Wally called out on is own, "Don't go, Joseph. Bring Mary back." Wallace broke into a wide smile, "You can have my room."
A few people thought the pageant had been ruined. Most considered it the best Christmas pageant they had ever seen.
Yes, a coming baby changes everything! Are you making room in your inn?


AND NOW YOUR YouTube CHRISTMAS MOMENT...


Listen to Faith Hill perform one of my Christmas favorites...A Baby Changes Everything.


Remember, You can find the archived messages from this year's series on my website at http://www.terrypaulson.com/christmas.shtml. For now, keep your sense of humor and your sense of thanksgiving and anticipation! More tomorrow...as we prepare for His coming!



Your Host for our 12 Day Journey to Christmas.

Terry Paulson, PhD