The Twelve Days of Christmas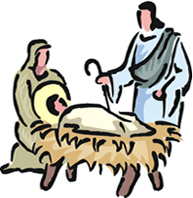 Day Three...December 16, 2010


Terry Paulson, PhD, CSP, CPAE



On the Third Day of Christmas my true friend gave to me...
A Reason to Celebrate and Worship...



This year, each message will be archived on my website, and you can see some past collections of messages by visiting that website now at

http://terrypaulson.com/christmas.shtml


A CHRISTMAS THOUGHT FOR THE DAY..."Pondering Christís Birth"



All mothers feel a sense of joy at the moment of birth. The day has been arduous and often painful, but the miracle of birth fills the hearts of all witnesses, including medical professionals who have "been there and done that" hundreds of times, first-time fathers who sometimes are a bit weak in the knees, and grandparents and siblings who are outside the room anxiously awaiting word.
The shepherds, the Magi, Joseph, maybe an innkeeper's wife or servantóall were filled with wonder and delight at the birth of Jesus. But no one experienced the birth like the Babyís mother. Mary, weary from a journey on the back of a donkey and the delivery in a primitive stable, listening to the shepherds' testimony about the angels' song and the significance of this child, "treasured up all these things and pondered them in her heart." (Luke 2:19).
When a baby is born, all those close to the family celebrate. When Jesus was born, something happened that gives the whole world reason to celebrate and worship until Christ comes again.
May our hearts be filled with worship and adoration for Godís gift of salvation that He gave us through the birth of Jesus Christ.




I LOVE TO TELL THE STORY..."Cadillac Santa"


A tradition that began in 1982 when "Cadillac Santa" handed out money to the homeless on Skid Row continued as his successors passed out $15,000 to thousands of people who lined up for hours outside the Midnight Mission in downtown Los Angeles. Every year, about a half-dozen anonymous "El Dorado Elves," who only described themselves as business associates of the original Cadillac Santa, distribute the $10 bills Christmas Eve.
"When you look around, you see these people who are homeless who stood in line for up to 10 hours to get a $10 bill," said a man in a red sweater who only referred to himself as the "Anonymous Elf." "If we can help them out and enjoy themselves a little bit and spread some Christmas cheer then that's what we want to do."
The tradition began nearly three decades ago when "Cadillac Santa" -- a recovered alcoholic and owner of a Cadillac dealership who had to beg to survive during the Great Depression -- went to Skid Row to hand out $10 bills to homeless people. He died in 1993, but his business associates -- the "El Dorado Elves" -- have carried on the tradition ever since.
Although he believes he could never fill the shoes of "Cadillac Santa" because "he was a great man," the Anonymous Elf said it's an honor to carry on the spirit of giving he learned from a real, modern-day Santa Claus. He added, "Old Cadillac Santa always used to say that he found out in his life that if you cast your bread on the water it comes back to you as dough, and he was certainly rewarded in his life for his giving spirit as well. It comes back to you in so many different ways that you can't even ponder them."
May it continue and may others be inspired to do the same. Do you feel an elf moment coming on?


AND NOW YOUR YouTube CHRISTMAS MOMENT...


Donít some Christmases bring you to your knees in prayer? Enjoy Josh Groban and Charlotte Church singing The Prayer.


You can find the archived messages from this year's series on my website at http://www.terrypaulson.com/christmas.shtml. More tomorrow...as we prepare for His coming!



Your Host for our 12 Day Journey to Christmas.
Terry Paulson, PhD