The Twelve Days of Christmas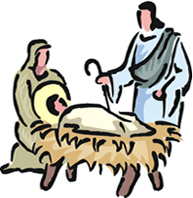 Day Two...December 15, 2010


Terry Paulson, PhD, CSP, CPAE



On the Second Day of Christmas my true friend gave to me...
A chance to be an encourager...



This year, each message will be archived on my website, and you can see some past collections of messages by visiting that website now at

http://terrypaulson.com/christmas.shtml


A CHRISTMAS THOUGHT FOR THE DAY..."What Will I Become?"



There is another quote on repentance from Pastor Craig Beeker. It is by Kathleen Norris in The Cloister Walk: "Repentance is not a popular word these days, but I believe that any of us recognize it when it strikes us in the gut. Repentance is coming to our senses, seeing, suddenly, what we've done that we might not have done, or recognizing ... that the problem is not in what we do but in what we become."
Have you been a good boy or girl this year? Well, if we were honest, we would confess that we have fallen short. We would repent, not pretend that we deserve all the gifts that God has blessed us with this year. Maybe there is an even deeper question this year that we ought to contemplate--What will you become this Christmas? What will the Holy Spirit make of you? Repent, believe and be transformed by a renewal of your faith this Christmas.
And we pray . . . God, before another year begins, I confess that I am in need of general renovation, for I often stray from Your will by seeking to be served and not to serve . . . I ignore Your authority . . . and I forget to be thankful. God, renovate my life, replace what is selfish, restore what is needed, and make all things new starting with me!




I LOVE TO TELL THE STORY..."A Wish to Give"


This story reminds me of what C.S. Lewis said: "Nothing is really ours until we share it."
As a Christmas present, Michael received a brand new car from a close friend who had just inherited a large sum of money. Several weeks later, after the holidays, as Michael left the office to go home, a shabbily dressed man stood near his parking spot, admiring his new wheels. "Hey man, is this your car?" the man asked.
Michael nodded with a gulp. "My friend gave it to me for Christmas."
The man was astonished. "You mean, your friend gave it to you, and it cost you nothing? Man, I wish . . ." Michael anticipated what the wish would be...that the man, too, would love to have such a generous friend.
"I wish," the man continued to Michael's amazement, "that I could be a friend like that."
Jesus said, "It is more blessed to give than to receive" (Acts 20:35). When we pray for blessings, we ought also to pray that we might use those gifts to bless someone else. What can you bless someone with today, even if it's something small?


DR. PAULSON'S NEWEST BOOK THE OPTIMISM ADVANTAGE PROVIDES THE GIFT OF OPTIMISM!

Never have people been more in need of an OPTIMISM LIFT. Make a gift of Dr. Paulson's newest book, The Optimism Advantage: 50 Simple Truths to Transform Your Attitudes and Actions into Results. You can pick your favorite site to place orders early:

YOUR MIRTHFUL MOMENT..."Christmas Denominations"


This mirthful moment was compliments of Dan Poynter and first appeared in the 12 Days of Christmas in 1999. It's worth a second read...
A lady in the Midwest makes a special trip to the Post Office to buy Christmas stamps for her holiday cards. The postal clerk asked, "What denomination?" The lady replied, "Good heavens, have we come to that? Well, give me 50 Baptist and 50 Catholic."


AND NOW YOUR YouTube CHRISTMAS MOMENT...


In our Lutheran liturgy, one of our favorites is the Annunciation and the Canticle of Mary. May you enjoy it as well.


Remember, You can find the archived messages from this year's series on my website at http://terrypaulson.com/christmas.shtml. For now, keep your sense of humor and your sense of thanksgiving and anticipation! More tomorrow...as we prepare for His coming!



Your Host for our 12 Day Journey to Christmas.

Terry Paulson, PhD