The Twelve Days of Christmas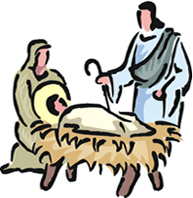 Day One...December 14, 2010


Terry Paulson, PhD, CSP, CPAE



Once again we look to the coming of the Christ child; we are drawn to a need for traditions, family, friends and faith. Traditions and holidays are the stuff that binds people together. I trust that the stories, thoughtful quotes and YouTube links supplied in my Fifteenth annual "12 Days of Christmas" E-mail messages will help you and yours keep this Christmas focused on Christís coming. I thank in advance all those who sent in stories and humorous moments of mirth for all of us to enjoy.


This year, each message will be archived on my website, and you can see some past collections of messages by visiting that website now at

http://terrypaulson.com/christmas.shtml


A CHRISTMAS THOUGHT FOR THE DAY..."The Wrong Price Labels"



When Pastor Craig Beeker shared this quote by William Temple in a recent sermon, I knew it had to be the start of this yearís 12 Days of Christmas: "The world, as we live in it, is like a shop window into which some mischievous person has gone overnight, and shifted all the price-labels so that the cheap things have the high-price labels on them, and the really precious things are priced low. We let ourselves be taken in. Repentance means getting those price-labels back in the right place."
Itís been a tough year for so many. We wonder if we can find the right gifts to give; we wonder if we can afford to pay for the ones we find. Could it be that we have been tricked into searching for the wrong gifts to give? In the tough times, the precious pearl I treasure most is my faith. It grounds me and brings the priceless gifts of Godís love, joy, peace and hope. May we hold onto them for they cost nothing but to accept Godís grace through faith. May we remind others of the only gift that lastsóthe gift of Godís son who came to die for us that we might know God. Oh Come, Oh Come EmanuelóMay we celebrate once again that God is with us!
After all, the best things are cheap because they are brought with love. Stan Colley of Castle Rock, CO shared the following: ďMy wife turned our family dinner conversation to what I might want for Christmas. She mentioned I needed a new watch. I said I had numerous watches, hut they all had broken pins and bands because my job was loading trucks. I said what I really needed was a pocket watch. On Christmas, I opened the present from my 6-year-old daughter. It was A Bugís Life pocket watch and key chain she had received in a Happy Meal. I still carry the watch; it runs perfectly.Ē
Now thatís KEEPING time!




I LOVE TO TELL THE STORY..."A Timely Smile and the Gift of Perspective"


This month June Solberg passed away and joined her husband Pastor Dick Solberg, certainly taking residence in one of heavenís houses for saints. In honor of her life and service to our Westlake Lutheran and many others, hereís a story she shared at a Christmas gathering in her home. It first appeared in my 12 Days of Christmas in 1996. This experience proved to be a turning point of perspective for her as a young mother and wife.
With her husband away at graduate school and struggling on a minimal stipend for food, she described trudging with her two young boys and newborn daughter six blocks through snow and freezing weather to buy food. With less than $2.00 left in her purse and a husband miles away, she trudged through the snow at near breaking point. She felt so overwhelmed. In the midst of her despair, a stranger approached on the snow-covered walkway. She moved her children to the side to let the man pass.
With a smile on his face, he asked her, "What you got there young lady?"
She replied, "My two fine boys and my newborn daughter."
Without a hesitation, he said with warmth, "Lady, but you are rich!"
She said to the man, and more importantly to herself, "Yes, I am."
In this season of holiday cheer, will you be taking the time to give others a gift of encouragement and a warm smile? Like the man June encountered on a snow-covered sidewalk, you may never know the impact of your gift of joy, but it may be the best gift you end up giving in transforming despair into faith.


AND NOW YOUR YouTube CHRISTMAS MOMENT...


To images of The Nativity, we join in Maryís prayer to claim the ďBreath of HeavenĒ through the voice of Amy GrantÖ"Breath of Heaven."


Remember, You can find the archived messages from this year's series on my website at http://terrypaulson.com/christmas.shtml. For now, keep your sense of humor and your sense of thanksgiving and anticipation! More tomorrow...as we prepare for His coming!



Your Host for our 12 Day Journey to Christmas.

Terry Paulson, PhD